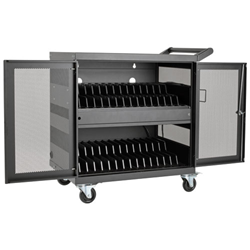 ready-to-roll mobile carts, along with ample room to charge, store and secure wider laptops and Chromebooks
Chicago, IL (PRWEB) April 28, 2016
Tripp Lite, a world-leading manufacturer of power protection and connectivity solutions, has expanded its award-winning line of USB and AC charging stations. The new charging stations include models with more spacing between dividers to accommodate thicker devices, as well as those up to 16" wide.
The new 32-device charging stations includes a handle and smooth-rolling casters, making it ready for mobile use. The 16-device models support an optional kit for future conversion to a mobile cart configuration. All models can be mounted to a wall, desk, table, counter or floor.
These new charging stations provide flexibility with high-speed charging, secure storage and easy deployment of devices. The charging stations are ideal for all technology-driven environments including schools, healthcare facilities, retail locations, corporate offices and industrial settings.
Key Benefits:
-- Removable/reconfigurable dividers protect and organize tablets or laptops
-- Flow-through ventilation prevents devices from overheating during charging
-- Locking steel doors prevent theft and tampering; some models also include a padlock hasp and rear ports for a cable or chain bicycle lock, providing additional security
-- USB-charging units allow devices to be synced or restored to original settings easily
"Customer input gave us inspiration for the latest additions to our charging station line-up," said Craig Watkins, Tripp Lite Product Manager. "We heard users wanted ready-to-roll mobile carts, along with ample room to charge, store and secure wider laptops and Chromebooks. These new charging stations answer the call with more space and removable dividers to provide extra width."
For more information on the new charging stations and to view the full line, visit: Tripp Lite Charging Stations for Chromebooks™ and Tablets
About Tripp Lite
Outstanding product reliability and exceptional service have been Tripp Lite trademarks for over 90 years. Tripp Lite's innovations include the world's first UPS system designed specifically for personal computers and the world's most trusted premium surge suppressor-the Isobar®-with more than 19 million in use. Tripp Lite maintains the highest level of ready-to-ship inventory in the industry with more than 3,000 different products, including UPS systems, rack systems and cooling solutions, PDUs, PowerAlert software for enterprise-level system management and control, surge suppressors, KVM switches, cables and connectivity products, inverters, power strips and notebook accessories. Headquartered in Chicago, Illinois, Tripp Lite maintains a global presence with fully staffed offices worldwide. Additional information, including a list of Tripp Lite's sales offices and authorized reseller partners, can be found by visiting Tripp Lite's website: http://www.tripplite.com.