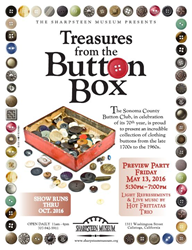 Calistoga, CA (PRWEB) May 02, 2016
The Sonoma County Button Club, in celebration of its 70th year, is proud to present "Treasures From the Button Box" — a new exhibit opening on May 13 at the Sharpsteen Museum.
This exhibit will feature clothing buttons from the late 1700s to the 1960s. These small works of art capture a long-ago world, recalling memories of old clothing and forgotten ancestors while evoking the pride, independence, and quality of small manufacturers.
The Industrial Revolution of 1760 to 1840 brought a wider variety of button materials to more people. Buttons were stashed in a basket, box, or tin and passed down through the generations, often with stories about the folks who wore them.
Since the late 1930s, serious collectors have created an elaborate button classification system, establishing 1918 as the cutoff year between old and modern buttons. Reference books have been published and clubs across the United States and around the world meet to study, trade and buy buttons. Collectors attend state and local button shows (the public is always welcome) as well as the National Button Society's annual show, entering their 9" x 12" trays of favorite buttons in competition for a coveted first, second, or third prize.
The public is invited to come by and meet members of the Sonoma County Button Club as they unveil their collection of buttons at the Preview Party on Friday, May 13 from 5:30 – 7 p.m. at the Sharpsteen Museum. Enjoy some light refreshments and live music as well.
This exhibit will be available for viewing through October 2016.
About Sharpsteen Museum:
The Sharpsteen Museum's permanent exhibits are designed to present the history of the upper Napa Valley from its pre-history to post-World War I with an emphasis on people and changes brought by the period of U.S. emigration and development.
In addition to its many historical exhibits, the museum uses unique and extraordinarily extensive dioramas to depict Calistoga during its period as the elegant 1860s Hot Springs resort developed by pioneer, promoter, publisher, entrepreneur, and California's first millionaire, Sam Brannan. Sharpsteen Museum has special exhibits which change twice a year, every six months, and reflect the varied interests of the people of the Valley. They have ranged from antique silverware to model ships to historical musical instruments.