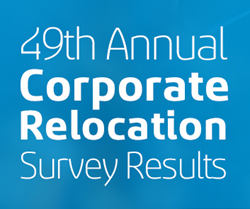 Evansville, Ind. (PRWEB) April 28, 2016
According to one of the nation's leading movers, Atlas Van Lines, there were more corporate relocations in 2015 than 2014, with more expected in 2016. In response to the 49th Annual Corporate Relocation Survey, 50 percent of firms saw relocation volumes increase overall and internationally in 2015.
While relocation volumes have increased over the last few years, budgets that had been previously reduced in the recovering economy were slow to bounce back or keep pace. However, in both 2014 and 2015, nearly half of all companies indicated their relocation budgets increased, and 41 percent believe their budgets will increase again in 2016.
"We're thrilled to see our longest running industry survey results once again identify increased relocation volume and budgets," said Jack Griffin, president and COO of Atlas World Group. "This survey provides an in-depth look at expected corporate relocation patterns and helps us better understand changes in the industry, ultimately allowing us to assist our human resource and mobility peers to the best of our ability."
While budget increases continue, the impact of fundamentally changing the "way" relocation dollars are allocated remains in effect. For the second year in a row, full reimbursement of expenses for new hires is out of favor in comparison to partial reimbursement and lump sum payments. Nearly half of the relocations were either only partially reimbursed by the company or were lump sum payment only, while 36 percent of respondents offered full reimbursements. Historically, this is the lowest level of full reimbursement for new hires as measured by the survey.
For the second year in a row, respondents cited lack of qualified local talent as the top external issue for relocation, followed by economic conditions. Company growth is the internal factor cited most often, with combined company expansion efforts coming in a close second.
Forty-three percent of responding firms indicate that the average age of the employees they relocate most frequently is under 36 years old. On average, companies stated that 22 percent of their relocations in 2015 were for entry-level positions and around half were for mid-level, comprising nearly three-fourths of the relocating population last year as estimated by the firms participating in the survey. Nearly half of all relocations (47 percent) were for new hires.
2016 Survey Highlights:

Respondents cited lack of qualified local talent as the top external issue (42 percent) for relocations and company growth as the number one internal factor (39 percent).
Forty-three percent of those surveyed say their most frequently relocated employees are under 36 years old.
Roughly two-thirds of companies are using alternative assignments of some type; 65 percent of firms continue to indicate they have a formal short-term/temporary assignment policy; 52 percent have an extended business travel policy; and 40 percent have a policy for long-distance commuters.
For new hires, full reimbursement has fallen to the lowest levels historically (36 percent); transferees are the most likely to receive full reimbursement (55 percent) of relocation expenses.
Firms are using lump sums and partial reimbursement at similar levels: roughly half utilize lump sums for either transferees (42 percent) or new hires (45 percent) and 38 percent use partial reimbursement for either transferees or new hires.
This year, 445 corporate relocation professionals completed Atlas Van Lines' survey between January 14 and March 7. The respondent demographic of the annual corporate relocation survey includes human resources/personnel and relocation/mobility services departments for service, manufacturing, wholesale/retail, financial and government organizations. More than half of the companies have an international presence and relocate employees between countries. Respondents have relocation responsibility and work for a company that has either relocated employees within the past two years or plans to relocate employees this year.
For complete survey results, visit the Atlas Corporate Relocation Survey results online. A dedicated infographic highlighting the differences in corporations' international versus domestic relocation policies is also available at: http://atlasvanlines.com/atlas/infographics/international-relocation.
About Atlas Van Lines
Atlas Van Lines, a national moving company, is the largest subsidiary of Atlas World Group, an Evansville, Indiana-based company. Atlas World Group companies employ nearly 700 people throughout North America. Nearly 500 Atlas interstate moving agents in the United States and Canada specialize in corporate relocation, household moving services and in the specialized transportation of high-value items such as electronics, fine art, store fixtures and furniture. For more information, visit http://atlasvanlines.com.