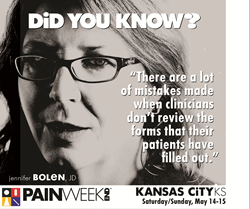 PWE offers a wonderful education opportunity to learn how safely and effectively we can manage chronic pain under ever-changing guidelines and regulations.
Montclair, NJ (PRWEB) April 28, 2016
Now in its 6th year, the PAINWeekEnd regional conferences are a huge success. Attendees are saying, "Excellent speakers + presentations. I was ready to just put in my time to get my CEs and endure a necessary topic. Instead I enjoyed a variety of useful presentations given by experts who were willing to make their specialty applicable to those of us in family practice. I was very impressed by the conference and would definitely recommend it to others."
On May 14 and 15, PAINWeekEnd Kansas City at the Overland Park Marriott, 10800 Metcalf Avenue, will provide busy clinicians and allied healthcare practitioners with relevant, practical instruction in the management of chronic pain. Sri Nalamachu, MD, said, "The current regulatory environment poses challenges to clinicians on how they can address chronic pain in their patients without being penalized by the state or federal authorities." Dr. Nalamachu is Clinical Assistant Professor at Kansas University Medical Center, Rehabilitation Medicine in Kansas City, and President and Medical Director of International Clinical Research Institute in Overland Park, Kansas. "PWE offers a wonderful education opportunity to learn how safely and effectively we can manage chronic pain under ever-changing guidelines and regulations." Dr. Nalamachu will be presenting 2 courses at PAINWeekEnd Kansas City.
The release of the new CDC Guidelines for Prescribing Opioids for Chronic Pain continues to engender debate among practitioners. Pain is a complex and fragmented area of clinical medicine, and the courses presented at PAINWeekEnd will touch upon these and other timely issues—topics include nonopioid analgesics: antidepressants, adjuvant therapies, and muscle relaxants; the obscurity of opioids; regional pain syndromes: hip/knee and neck/back; the complex pain patient; cost containment; patient centered urine drug testing; is that medicine real or counterfeit?; an overview of epidural steroids; and courses entitled "Fire the Molecule, Not the Patient! Addressing Irresponsible Prescribing Through Universal Precautions," "Embrace 2016 Practice Changes and Patient Education: Overview of Critical Pain Management Practice Issues," and "Get Your Specimens in Order: The Impact of Changes to the Clinical Laboratory Fee Schedule and Payor Policies on Medical Record Documentation." In addition, there will be commercially supported activities addressing a range of product, disease state, and medical information topics.
By attending this PAINWeekEnd, participants can earn credit hours towards Kansas' relicensing requirements: 20 AMA PRA 1 CME hours every year. To see the complete agenda and more information about this or other PAINWeekEnd Regional Conferences, go to painweekend.org.
The online registration fee for PAINWeekEnd Kansas City is $199. PAINWeekEnd registrants are further offered the opportunity to register for the 2016 PAINWeek National Conference, September 6-10, in Las Vegas, for $199 off the current online published price.
PAINWeekEnd is provided by Global Education Group.