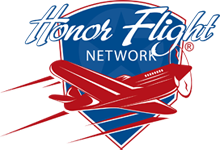 "To represent my family and my brothers, who weren't able to go."
Oregon City, Oregon (PRWEB) April 27, 2016
Charles (Charlie) Edward Brown was chosen through the Oregon chapter of Honor Flight to travel to Washington D.C. where he will visit and reflect at World War II memorials. The Honor Flight Network is a non-profit organization with a mission to transport America's Veterans to Washington D.C. to visit the memorials dedicated to their service and sacrifices.
In early 2016, Charlie learned that he would take an Honor Flight on April 29, 2016 with Jan, his daughter, as his Honor Flight-appointed guardian. When Charlie was asked why he wanted to be a part of the Honor Flight he said "To represent my family and my brothers, who weren't able to go."
Charlie was born on August 8, 1926, in Milwaukie, Oregon. He graduated from Benson High School in Portland, Oregon and in 1944 joined the United States Army to fight for his country during World War II. He completed basic training at Camp Roberts in California and was stationed in Manila. He was a foot solider with the 33rd infantry division and 126th regiment where he fought under General MacArthur.
Charlie was mainly stationed in Wakayama, Japan after he transferred to the 24th Engineers battalion. In 1946, Charlie returned to Oregon after an honorable discharge. He attended college at Multnomah University and went on to study Engineering at Portland State University. While attending school, Charlie took a position with Tektronix where he spent 30 years as an engineer.
"We absolutely love having Charlie as a part of the Avamere Living at Berry Park community and we are excited for him to take part in such a wonderful event," says Danielle Hauseman, Executive Director for Avamere Living at Berry Park. "Please join us as we welcome Charlie home from his Honor Flight on Wednesday, May 4th at 2:00pm at Avamere Living at Berry Park." The senior living community is located at 13669 S. Gaffney Lane, Oregon City, OR 97045.
Upon his return from the Honor Flight, Charlie will meet with local 7th Graders to share with them his experience on the trip. The children will share with Charlie letters they have written to honor our nation's Veterans.
For additional information or questions about the reception, please call Danielle Hauseman at 503-656-7614.