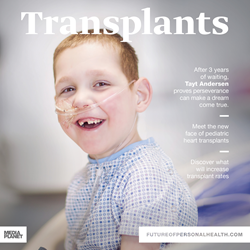 These kids are dying and we don't know how long Tayt would have lasted without the transplant
(PRWEB) April 27, 2016
Educating the public on organ transplantation is more vital today than ever before. Twenty-two Americans die every day waiting for an organ. Success in transplantation relies on a partnership between multiple medical branches, as well as the support of the everyday people that donate organs. Research to evolve past industry limitations is ongoing, but a constant truth remains: the more we choose to donate, the more lives we save. This campaign discusses and celebrates the different collaborations that make transplantation possible.
Tayt Andersen, 10-year-old heart transplant recipient, graces the cover of the print publication. In an exclusive interview with Mediaplanet, he and his mother Chrissy share their experience waiting for years on the transplant list and becoming an internet sensation while fighting for his life.
"These kids are dying and we don't know how long Tayt would have lasted without the transplant," Chrissy Andersen says, encouraging families to choose organ donation—a choice that saved her sons life. Tayt and Chrissy sum up the significance of the choice to donate in one simple statement: "One selfless act can save at least 25 children."
The print component of "Transplants" is distributed within the Wednesday, April 27 circulation of the Chicago Tribune, with a circulation of approximately 445,929 copies and an estimated readership of 1.3 million. The digital component is distributed nationally, through a vast social media strategy, and across a network of top news sites and partner outlets. To explore the digital version of the campaign, click here.
This edition of "Transplants" was made possible with the support for Tayt and Chrissy Andersen, The American Society of Transplantation, Organ Donation and Transplantation Alliance, American Transplant Congress, International Transplant Nurses Society, Alliance for Regenerative Medicine, UW Health, Loyola Medicine, Donate Life America, Amarantus BioScience Holdings, University of Michigan Health System, Children's Hospital and Medical Center of Omaha, Northwestern Memorial and many more.
About Mediaplanet
Mediaplanet is the leading independent publisher of content-marketing campaigns covering a variety of topics and industries. We turn consumer interest into action by providing readers with motivational editorial, pairing it with relevant advertisers and distributing it within top newspapers and online platforms around the world.