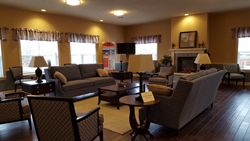 Beech Grove, Indiana (PRWEB) April 28, 2016
What: The official grand opening and ribbon cutting ceremony of the $9.2 million Beech Grove Station Senior Apartment Homes, Beech Grove, Indiana.
Beach Grove Station, a residential development that provides sixty (60) new high-quality cottage-style apartment homes for seniors aged 55 and up. The development includes a complete neighborhood design of twelve (12) buildings, including a community clubhouse offering a wide variety of supportive services, social and exercise opportunities, a community garden, and picnic areas.
When:
Friday, April 29, 2016
11:00 AM – 1:00 PM
Who: Confirmed speakers include Mayor Dennis Buckley of Beech Grove; Edgar N. Tipton, Jr., President of CAGI; Alan Rakowski, IHCDA; Don Webb, Beech Grove Redevelopment Commission ; Keith Broadnax, Senior VP, Cinnaire ; Aaron Pechota, Vice President of Development, The NRP Group.
Where: The Beech Grove Station 240 Buckley Drive, Beech Grove, IN 46107
Note: Parking is available directly across the street at the Emporium parking lot.
Why: There is strong demand for quality affordable housing for seniors in the Beech Grove area. This senior community will include numerous amenities and unique features to connect and accommodate its residents, and it is in close proximity to retail shopping, grocery, medical, senior center and the fire and police departments.