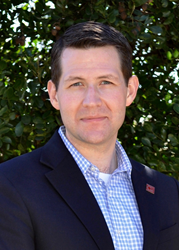 "I am incredibly humbled at the opportunity to lead such a league of extraordinary saints forward with a vivid vision for seeing God's Kingdom advance throughout the marketplace!"
(PRWEB) April 28, 2016
The C12 Group, the largest and fastest growing Christian CEO and Executive roundtable organization, announces the Board of Directors has unanimously appointed Mike Sharrow as Chief Executive Officer and President. Don Barefoot, C12's longtime CEO and figurehead announced his desire to step down earlier this year after a decade of dedicated and distinguished service to the company. Sharrow assumes the title effective May 1st, 2016.
"I am delighted with the selection of Mike Sharrow as the new CEO of the C12 Group. Mike will build upon the great work of Don Barefoot and I am confident that his skills and missional passion will drive C12 to new heights," said Buck Jacobs, Chairman of the Board of Directors and Founder of the organization.
Sharrow will be transitioning to C12's top executive role from Managing Chair of one of the largest and most successful C12 regional groups in central Texas. Prior to joining C12, he worked as a consultant in healthcare strategy as well as an Executive Pastor in local church ministry leadership. Sharrow brings a wide range of administrative experience in team development, international missions, product development, and collaborative-value based networking to the global mission of The C12 Group.
"Prior to joining The C12 Group as a member in 2010, I was skeptical that there truly could be a movement of leaders equally committed to work as worship (Biblical excellence in business stewardship) and business as ministry (eternal impact) in a real way," says Sharrow of the influence C12 has among business owners and executives. "Joining and then leading others in C12 has been one of the most significant experiences of my life. I am incredibly humbled at the opportunity to lead such a league of extraordinary saints forward with a vivid vision for seeing God's Kingdom advance throughout the marketplace!"
About the C12 Group
The C12 Group is the leading roundtable organization for Christian CEOs, Business Owners, and Executives. Comprised of a national network of like-minded leaders, C12 offers local monthly peer advisory board meetings and one-on-one counsel facilitated by full-time qualified Chairs.
With over 1800 members in 90+ metro markets, C12 peer groups are incorporating Godly counsel in the marketplace impacting business, revealing ministry opportunities, and changing lives.