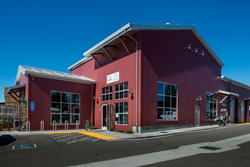 As consumers are looking for more sustainable, code-compliant alternatives to wood construction, EcoSteel provides a durable, affordable solution.
Laguna Beach, CA (PRWEB) May 04, 2016
As building requirements become more strict, steel construction is an sustainable and durable alertnative to wood construction that is also code compliant. For example, in 2009 the Homespace + Workspace retail store in Santa Cruz, California burned to the ground. An entire business was lost as a result of a fire at a neighboring lumberyard that spread to their building. EcoSteel was then contacted to rebuild using a completely prefabricated steel structure and building envelope. Not only was EcoSteel able to deliver a prefab building system to get their business up and running quickly, it was Title 24 Compliant and a completely Fire Rated Building. The result is a 10,340 square foot steel building complete with 2HR fire rated panels. To ensure this project remains on budget, interior structural elements were left exposed. The back interior faces of the pre-insulated steel panels were also left exposed to reduce costs and provide a unique and interesting interior look.
As consumers are looking for more long-term sustainability in all aspects of their lives, more businesses are looking for alternatives to traditional wood in construction. With building restrictions increasing in flood, fire, hurricane, and earthquake areas, alternatives to wood construction are becoming more critical. Because of its strength and durability, building with steel not only lasts longer but it also can be recycled multiple times without any negative effects. In addition, no rare or endangered materials are used in steel construction. Steel construction provides many benefits including the following:

Fire and termite resistant
Mold resistant
Sustainability
Energy efficient
Extreme weather resistant
Clean indoor air
Low maintenance
With new building codes for fire zones, buildings can no longer be built using asphalt shingles, rubber membrane roofs, cedar shake siding, vinyl siding or wood tongue and groove siding -- making steel the perfect choice in these areas.
With 13 shipping points nationwide, EcoSteel has developed a system of pre-fabricated steel parts that can be assembled onsite using standard tools and readily available materials and labor for commercial, residential and retail projects. The EcoSteel construction process begins with 3D engineering and modeling, followed by a structural concept design, preliminary shop details, and then delivery of a customized, pre-fabricated steel kit. Ecosteel allows architects and builders the flexibility to achieve their structural visions. A steel frame can handle virtually any shape and the construction materials come in many different colors, finishes and styles allowing for a customized build.
EcoSteel has overseen the construction of a variety of structures including medical, retail, industrial and residential projects across the country. For example, another EcoSteel project in Los Angeles, California, is a medical building with an all steel bolted frame construction. This ensures that the patients inside are protected by a superior structure in the event of a fire or earthquake. Because medical facilities are a high risk of fast spreading fire damage with high pressure oxygen lines running through the walls, steel is an excellent alternative. In addition, because steel does not harbor mold, bacteria or termites there is no reason for dangerous chemical treatments that could be harmful to patients and employees.
EcoSteel was started to fill a niche in custom all steel architectural projects. This boutique firm offers a collaborative effort with clients, architects, and contractors worldwide. Visit http://ecosteel.com http://www.ecosteel.com for more information.