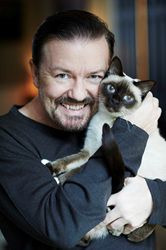 How could anyone in their right mind declaw a cat or a kitten?
NEW YORK, NY (PRWEB) April 27, 2016
Ricky Gervais, well-known actor, comedian, director, producer, writer, and musician, has joined the long list of supporters of the proposed legislation to ban the declawing of cats in the State of New York. Gervais, co-creator of "The Office" and star of the BBC version, is no stranger to animal rights. In his Netflix drama, "Derek," Gervais played a care-worker with a soft spot for animals, a role that bears some resemblance to the real animal-loving Gervais.
"How could anyone in their right mind declaw a cat or a kitten?" asks Gervais. "I could never imagine committing such an injustice to my beautiful moggy (cat) however many stair carpets or sofas she likes to ruin. New York is one of the greatest most progressive places in the world and I hope to see it at the forefront of the humane treatment of all animals."
In 2014, the Paw Project, the international nonprofit dedicated to ending the inhumane practice of declawing, approached New York Assemblywoman Linda Rosenthal about outlawing declawing. Rosenthal is responsible for many laws in the Empire State to protect animals from abuse. Together, they joined forces with the Humane Society of the US in a concerted effort to pass A1297/S5084 in Albany. This would be the first statewide ban on domestic cat declawing. California has banned declawing in multiple municipalities including Los Angeles and San Francisco. They have also outlawed at the state level, the declawing of wild and exotic cats, including wild cats that are the same size as domestic cats.
Declawing is common in North America and estimates are that 25% of American cats (around 22,000,000 cats) have suffered through the unnecessary surgery that amputates each of the cat's toes at the first knuckle. Declawing is illegal or considered inhumane and unethical in much of the rest of the world. The Royal College of Veterinary Surgeons in the UK calls the surgery "unnecessary mutilation." Veterinarians in the US can make well over $1000 per hour declawing cats.
"Even a comedian knows that cat declawing is no laughing matter," said Assemblymember Linda B. Rosenthal, prime sponsor of bill A.1297, which would ban declawing in New York State. "It's a painful mutilation that is performed for human convenience. Ensuring that the veterinarians who still perform this inhumane procedure can continue to profit from it is not our job as elected officials. It is, however, our duty to protect those who cannot protect themselves."
Susan Whittred, DVM is the Veterinary Co-Director of Paw Project - New York. She is thrilled to have Gervais speak up about the cruelty of declawing. Whittred says, "Ricky Gervais says it like it is. In the UK, and most other countries around the world, declawing is not performed because it is unethical or illegal. I'm so glad that Ricky is part of the fight. It's no secret how much he cares about animals."
For more information about this press release, please contact Paw Project director, Dr. Jennifer Conrad at 310-795-6215.
###