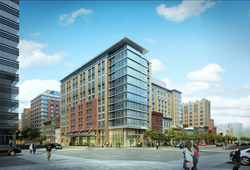 Having worked with EB5 Capital on the Marquis, we knew that we wanted to partner with them on Columbia Place.
Washington, DC (PRWEB) May 02, 2016
EB5 Capital today announced that it has provided $40.5 million in preferred equity financing for Columbia Place, a dual-branded Marriott hotel project being developed by Quadrangle Development Corporation and Capstone Development. Columbia Place comprises two new Marriott hotels – a 357-room Courtyard and a 147-room Residence Inn – within one building. The two hotels will be built across from both the existing Marriott Marquis and the Walter E. Washington Convention Center, creating a true three-hotel complex. The three hotels will include more than 1,600 rooms for business and leisure travelers.
EB5 Capital raised the funds from 81 foreign investors through the EB-5 Immigrant Investor Program. The EB-5 fundraising effort for this project was led by Brian Ostar, Director of Global Operations. The EB-5 investment was structured by Patrick Rainey, Associate Director of Investments.
"The District has long suffered from a shortage of hotel rooms, forcing meeting attendees, business travelers, and tourists out of the downtown area to surrounding areas," said EB5 Capital Founder and President Angelique (Angel) Brunner. "There has been a clear need for an increased variety of hotel rooms to serve the growing number of meeting attendees and other visitors to Washington, D.C. EB5 Capital is proud to have played a role in the initial development of the Marquis, and we are very pleased to be working again with Quadrangle and Capstone."
The Marriott Marquis, the first phase of the three-hotel Marriott development, opened on May 1, 2014. The four-star luxury hotel, which is connected to the Convention Center via an underground tunnel, won the 2014 Development of the Year award at The Americas Lodging Investment Summit. EB5 Capital provided $5 million in equity financing for the Marquis.
President of Capstone Development Norman Jenkins noted that, "Having worked with EB5 Capital on the Marquis, we knew that we wanted to partner with them on Columbia Place. EB5 Capital was successful in helping investors understand the broad vision of Columbia Place, which is to develop a hotel complex to better serve visitors to the nation's capital."
About EB5 Capital
EB5 Capital is a leader in the EB-5 immigrant investor industry, raising foreign capital for investment in job-creating real estate projects across the United States. EB5 Capital owns and operates a number of USCIS-authorized Regional Centers across the country, most notably in Washington, D.C., California, and New York, and has a portfolio of 13 current and completed projects, with six more in the pre-development phase. EB5 Capital has raised funds from investors in nearly 50 countries, maintaining a 100% project approval rate from the USCIS. It is one of only a handful of Regional Center operators that has returned capital to investors across multiple transactions. For more information, visit http://www.eb5capital.com.
About the USCIS EB-5 Visa Program
In 1990, Congress created the EB-5 Immigrant Investor Program to stimulate the U.S. economy through job creation and capital investment in U.S. businesses by foreign investors. In exchange for investing in a business that creates jobs for American workers, foreign nationals and their families can become permanent residents of the United States. The Program's name, "EB-5," comes from the visa category for which immigrant investors apply – the Employment-Based Fifth Preference Visa. The Program is administered by the United States Citizenship and Immigration Services (USCIS), an agency of the Department of Homeland Security.
6106 MacArthur Blvd., Suite 104
Bethesda, MD 20816
http://www.eb5capital.com
CONTACT:
Jan Hyland 202-836-8918
media(at)eb5capital(dot)com