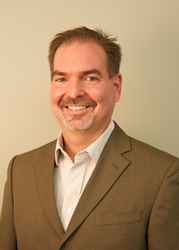 We have a big vision for the role that small businesses can play in a more sustainable future.
Kansas City, MO (PRWEB) April 29, 2016
Erick Jessee, president of Posty Cards, Inc, a manufacturer of personalized business greeting cards, was honored last night by the Printing & Imaging Association of MidAmerica as its Kansas City Executive of the Year.
Jessee, a third-generation leader of Posty Cards for the past 10 years, has embraced the printing community and proven to be a visionary in the industry for his role in transforming the company into the most environmentally sustainable print facility in the nation.
Posty Cards designs, manufactures and sells personalized greeting cards for businesses to send to clients and employees. When the company needed more space for increased production, Jessee worked to ensure the renovation and expansion project was sustainable. In 2012, the building was the first manufacturing plant in the Midwest to achieve Leadership in Energy and Environmental Design (LEED) Platinum certification, which is the highest level awarded by the U. S. Green Building Council (USGBC).
"We have a big vision for the role that small businesses can play in a more sustainable future and we're excited that Posty Cards can be a role model for what small businesses and printing facilities in particular can do," said Jessee.
Posty Cards' sustainability features include a 388-panel solar array that produces over 20 percent of its energy use, a high-efficiency HVAC system, LED lighting, a storm water management system and a two-acre native plant garden.
In 2013, Posty Cards was the first greeting card company certified by the Sustainable Green Printing Partnership (SGP) for demonstrating green printing practices. In addition to the facility and manufacturing certifications, Posty Cards is certified by the Forestry Sustainability Council to verify that the FSC® paper used for the majority of its products is responsibly managed from the forest to the printing presses.
Jessee joined the family business in 2006, and in 2010 was named president. He graduated from Stanford University in 1989 and worked in business and management positions in the technology field, including at Apple headquarters in California. He lives in Kansas City, MO with his wife Christie May Jessee and their daughters, Joanna and Julia.
About Posty Cards: Posty Cards has been helping companies nationwide to build and maintain relationships with its clients since 1948. The third-generation, family-owned company designs, manufactures and sells business-to-business greeting cards for all occasions – plus calendars – at the lowest prices available. Accommodating orders as small as 50 or as large as 100,000+, products are personalized with names, signatures, logos and photos. For more information, visit http://www.postycards.com.
About PIA MidAmerica: PIA MidAmerica (Printing & Imaging Association of MidAmerica) is a regional trade association serving the graphic arts community in Kansas, Oklahoma, Texas, and Western Missouri. With more than 450 member companies, it is one of the largest Printing Industries of America affiliates in North America.