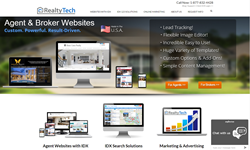 Thousand Oaks, CA (PRWEB) April 27, 2016
RealtyTech Inc. has just released integrated features on their Real Estate Agent and Office websites and Agent and Broker IDX solutions designed to optimize for an Agent's specific local market.
"With over a million websites and IDX agent solutions on the internet it is difficult for an average agent to rank highly on Google and get traffic to their websites unless they actively market their website to a specific or a few specific sub-markets," says RealtyTech CEO Richard Uzelac. "We have long advocated for agents to narrow the focus of their marketing efforts both online and offline. These new widgets and integrated products allow the savvy agent, team or brokerage to put a stake in the sand and claim a market online."
With a very open and extensible customization interface, agents can show up on the major search engines for their Farms and other areas of expertise. RealtyTech has a strong support program to teach agents how to best exploit these opportunities.
About RealtyTech Inc.
RealtyTech Inc. is a Thousand Oaks, CA based Company that gives real estate professionals and companies the tools necessary to stand out and succeed in today's online marketplace combined with solution minded, live California-based customer service. We have over 15 years of online real estate marketing expertise and have spent over 10 years of that experience offering Agent and Office websites, IDX Home Searches and Internet Marketing.
For more information, please call (877) 832-4428 or visit http://www.RealtyTech.com