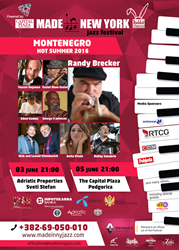 "This collaboration and two new locations gives extra exposure to the artists participating in the competition and proves, yet again, how important jazz is to our world."
New York, NY (PRWEB) April 28, 2016
Made In New York Jazz Competition is an innovative, online competition that culminates with live performances at the top jazz gathering in New York City this May 21st. Due to the success of the event, the competition is expanding by introducing two additional locations for live concerts. The new locations will be in Sveti Stefan, Montenegro June 3rd and Podgorica, Montenegro on June 5th.
The expansion to European locations will enhance the competition greatly by allowing more musicians from around the world to share their talents at the live concerts. Just as in New York City, the concerts will feature, both established jazz masters as well as winners and participants from the competition.
Made In New York Jazz Competition Founder, Misha Brovkin said, "This collaboration and two new locations gives extra exposure to the artists participating in the competition and proves, yet again, how important jazz is to our world."
The competition is unique in that it is held entirely online with submissions entered for a myriad of categories that run the gamut in the style of jazz. The entrants are judged and the winners receive a cash prize, the opportunity to perform live in New York City, Sveti Stefan or Podgorica as well as receive an enormous amount of exposure within the community on an international level.
The Made In New York Jazz festival in Montenegro is powered by Capital Plaza.
This collaboration has been made possible with the support of the Ministry of Culture and Tourism of Montenegro as well as the partnership formed between the competition and Rabbit Records, which is represented by the Montenegro renowned artist and composer, Vladimir Maras.
Brovkin said, "This is just the beginning of a long road and we couldn't be more excited."
For more information, visit the competition website: http://madeinnyjazz.com/festival/