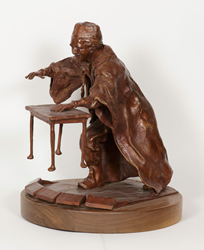 (PRWEB) May 01, 2016
Kaminski Auctions held the second and final auction of the effects of Le Grand David and his own Spectacular Magic Company in Beverly, Massachusetts, on Sunday, April 10, 2016. This highly anticipated event offering the illusions, backdrops, costumes, posters, original works of art and memorabilia, as well as the contents of the troupe's historic Larcom Theatre, was conducted by auctioneer Frank Kaminski. Mr. Kaminski has conducted auctions for the collections of such entertainment luminaries as Oprah Winfrey. The Le Grand David sale attracted magic aficionados from as far away as California and North Carolina for the live bidding, and from as far away as the Czech Republic for online bidding. The auction coincided with the stage magic ensemble putting the Larcom Theatre — first opened in 1912 — up for sale.
There was robust bidding from the start among magicians and collectors, especially for illusions and props owned and performed by principal illusionists Marco the Magi (Cesareo Pelaez) and Le Grand David (David Bull). Most notably, Marco's unique, hand-painted table, custom-made for his solo front curtain routine during their Larcom Theatre production, far exceeded its original estimate. Two bronze sculptures, one depicting Marco's Floating Table routine and the other of Le Grand David performing his signature Floating Silver Ball effect, and several original paintings by company artist, Rick Heath, were also highly sought after.
David Bull reflected, "The auction was a great success, though it does mark a watershed moment in the Le Grand David chapter of magic history. However, it is gratifying for us to know that the magic company's legacy that began 40 years ago in 1976 — America's Bicentennial Year — when we first entered Beverly's Cabot Street Theatre as its new owners, will endure thanks to so many magicians, collectors and longtime friends who value that history. They will provide good homes for what we created. We are also very pleased that The Beverly Historical Society is now the proud repository of many magic company artifacts and recognizes the significant role the Le Grand David Magic Company has played in the city's history."
All prices realized are available at http://www.kaminskiauctions.com. Kaminski Auctions has a busy calendar of auctions coming up in May at their auction gallery at 117, Elliot Street, ( Rt.62 ), Beverly, Massachusetts. On Saturday, May 7th, is an estate auction featuring an important jewelry collection just in time for Mother's Day, on May 21, 2016 an estate auction featuring items formerly from the collection of Eleanora Randolph Sears of Prides Crossing, Beverly Farms, Massachusetts and on Sunday, May 22, 2016 an a estate auction featuring the lifetime collection of Mark Avner of Lake Worth, FL and Buffalo, NY, a Marietta, GA and several Palm Beach, FL estates. Sign up to bid at http://www.kaminskiauctions.com on KaminskiLIVE.