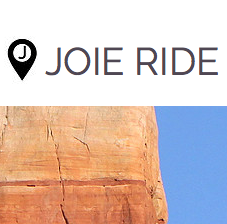 Los Angeles, CA (PRWEB) April 30, 2016
Joie Ride's new city guide features tips from digital influencer Celeste Thorson on the best local destinations in Los Angeles. Joie Ride's online travel and lifestyle network launched exclusive new city guides to share tips from locals and travel experts on top attractions. Thorson shares her style, travel, fitness, gaming, entertainment, and food preferences with an audience of over one million followers and more than 15 million video viewers. In Thorson's city guide, she discusses the best places in Los Angeles to eat, date, shop, and get inspired like a loca Angelenol.
When asked about the best date spots in Los Angeles Celeste Thorson revealed her top picks from downtown to midtown and the westside. "I love relaxing on the westside in Santa Monica. Getting a bird's-eye view of the sunset from the ferris wheel on the Santa Monica Pier is always memorable and picturesque. Biking down the boardwalk from Santa Monica to Venice is another mellow way to enjoy the beach." said Thorson during the interview.
Read the full article available at: http://goo.gl/u5OGV5
Joie Ride caters to love and relationships with the specialty section "Tour De Romance" for singles and couples looking to discover the most romantic parts of the city. Culinary, wine, weekend, and seasonal guides are coming soon to showcase the best activities for spring, summer, winter, and fall.
ABOUT CELESTE THORSON
Actress Celeste Thorson (How I Met Your Mother, The Exes, Heartbeat, Jimmy Kimmel Live!) entered the entertainment industry as a travel TV writer and host of four travel and adventures television series. Her background in content creation, fashion, and lifestyle matched with her portfolio of name-brand clients established her as a lifestyle and fashion influencer online. Her growing social media following exceeds one million fans and 15 million video views on Facebook, Twitter, Instagram, Youtube, Pinterest, and Snapchat.
Connect with Celeste Thorson @CelesteThorson or on http://www.CelesteThorson.com
ABOUT JOIE RIDE
Joie Ride is a travel and lifestyle network with cross-media programming thru digital content and Joie Ride TV. Joie Ride was founded to give audiences the ability to tour cities thru the eyes of photographers, chefs, executives, artists, stylists, celebrities, influencers, and professionals. Experts share their favorite nightlife, restaurants, hotels, entertainment, shopping, music venues, tourist attractions, and museums from a local's or avid traveler's point-of-view. Joie Ride focuses on where to explore, eat, play, love, ride, relax, shop, read, watch, give, and enjoy the ride in popular tourist destinations like Los Angeles, New York, Las Vegas, Miami, Milan, Rome, Tokyo, Istanbul, Paris, Bangkok, and London. Joie Ride explores the adventure lifestyle, local tourism, and activities that support local businesses.
Connect with Joie Ride @JoieRideTV or on http://www.JoieRide.com