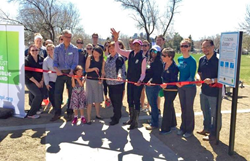 The location is great because I can watch my kids while I work out. It promotes health for my whole family.
Fort Payne, Alabama (PRWEB) April 29, 2016
GameTime, a leading manufacturer of commercial playground equipment, outdoor fitness equipment and custom play spaces, recently opened a new fitness park in Denver's Zuni Park. The site is one of many Fitness Zones® created across the country by The Trust for Public Land (TPL) and features durable, low maintenance GTfit Advanced Series outdoor fitness products that are designed to help adults of all ages and abilities become more fit.
Zuni Park is a beautiful green space in the Denver neighborhood of Chafee Park. The park features sports fields, a playground and a picnic area, but few amenities to attract adults to the park on a regular basis. The Chaffee Park neighborhood is a diverse, mixed-income community, and its residents are at elevated risk of obesity, diabetes, and hypertension. TPL selected the park as one of their Fitness Zone projects and installed Chin-Up and Push-Up bars, accessible versions of the Chest Press machine and Lat Pull Down machine and other fitness products manufactured by GameTime. The new site is designed to help increase park usage and help Chafee Park residents improve their health and wellness.
Chafee Park resident, Nola Miguel, was excited about the opening of the new fitness park, and particularly happy about it's location near the playground. "The proximity to the playground is nice, so my son can transition to the Fitness Zone as he gets older. The location is great because I can watch my kids while I work out. It promotes health for my whole family."
Recruiting students from the School of Physical Therapy at Regis University, TPL developed workout programs and reached out to neighborhood residents to welcome them to the new facility. This project was part of a cooperative effort called Cultivate Health, a program lead by Regis University and nonprofit partners like The Trust for Public Land.
In a statement released by Regis University, Linnea Bjorkman, Healthy Living Coordinator for Cultivate Health, stated, "It's a really amazing park. The residents have been looking for ways to activate that park more. It's a huge priority and we listened to what the residents want. We want to do what's most beneficial to them and their goals for improving their health."
To help users maximize the benefits of the new Fitness Zone, the Cultivate Health website (http://www.regis.edu/Community-Gateway/Cultivate-Health.aspx) offers tailored workout routines to fit residents' age and abilities.
About GameTime
GameTime is a leading manufacturer of commercial playgrounds, custom play spaces and outdoor fitness equipment. Headquartered in Fort Payne, Alabama, and with distribution around the world, GameTime has been dedicated to enriching childhood through play since our founding in 1929. Our products combine play research with thoughtful design to create playgrounds for children of all abilities. We bring together the right corporate, civic and nonprofit partners to build healthy, active communities that make the world a better place for children and families.
About the Trust for Public Land
TPL's mission is to create parks and protect land for people, ensuring healthy, livable communities for generations to come. Every park, playground, and public space they create is an open invitation to explore, wonder, discover, and play. TPL has been connecting communities to the outdoors—and to each other—since 1972.
###