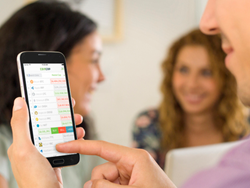 Switzerland (PRWEB) April 28, 2016
Realtime bitcoin and cryptocurrency market data site CoinCap.io, today released their CoinCap application for Android devices. The free app, which was released for iOS devices in January, boasts features not available on the website that include allowing users to create portfolios to track their coin holding amounts, set push notifications to alert users of price changes as well as view realtime coin market data for over 500 digital assets.
The app offers a stylish and easy-to-use interface for users wanting to keep up with their data anytime, anywhere from the palm of their hand. Features include:

The "Alert Manager" allows users to create push notifications for price changes or daily, weekly or monthly updates for chosen altcoins or entire portfolios.
The "Altfolio" creator allows users to make up to three separate portfolios of digital assets to manage their bitcoin and altcoin holdings and track value over time.
Users can see a ranking of all blockchain assets by market cap or trade volume, and view details of specific coins. The app provides realtime updates as coin markets rise and fall.
Users can buy or sell coins supported by ShapeShift.io with native app connectivity.
Users can opt for extra security with a pin code or touch ID entry
Users can take a tour of the application in this quick video tutorial: http://bit.ly/1Pgz6yp
CoinCap.io app is available on the Google Play store for free and can be downloaded in the Google Play store here.
The app is also available on the Apple App Store for free for iPhone/iOS and can be downloaded here: http://bit.ly/1ncpda9
The CoinCap app and website are products of the instant blockchain exchange ShapeShift.io.
About CoinCap.io:
CoinCap.io is the only site that tracks market data for Bitcoin and hundreds of cryptocurrencies in real-time. The site lists current value in dollars (USD), market cap, 24-hour volume, available supply as well as historical charts for easier viewing. Users can also directly buy or sell digital coins that are supported by ShapeShift.io. CoinCap for mobile devices now provides real-time data, a coin portfolio tracker, and push notifications to keep up with price movements. Visit http://coincap.io or download the app:
appstore.com/coincap