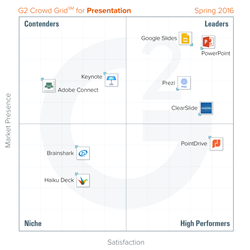 CHICAGO (PRWEB) April 28, 2016
G2 Crowd, the world's leading business software review platform, today released the Spring 2016 Presentation Software Grid report to help businesses make the best presentation technology decision. PowerPoint, Google Slides, Prezi, and ClearSlide were named Leaders in the report, receiving strong customer satisfaction scores with a large market presence. PointDrive was named a High Performer in the report, earning strong customer satisfaction marks with smaller market presence scores. PointDrive earned the highest overall satisfaction score, while Google Slides earned the highest overall market presence scores.
The Grid leverages customer satisfaction data reported by authenticated users along with vendor market presence determined from social and public data. Based on a combination of these scores, each software solution is categorized as a Leader, High Performer, Contender, or Niche.
Key Findings:

Smaller Vendors Have Better Support - Despite having a larger impact on the space, no vendor with a market presence score above 50 received an above-average satisfaction rating for quality of support. All three vendors with a market presence score below 50 were able to successfully achieve an above-average score.
Template Dissatisfaction - Very rarely were reviewers satisfied with the templates offered by presentation solutions, whether it be the amount of templates offered or their style. However, users did enjoy when they were able to create custom templates to better fit their standards.
Quality Mobile Applications - Eight of the nine presentation products represented in the report have mobile applications for either iOS, Android, or both. Reviewers from both the iOS and Android mobile application stores generally gave products' mobile applications positive scores and did not become watered down after a large amount of ratings.
About the Presentation Software Grid report:
The report is based on more than 770 reviews written by business professionals.
Of the roughly 46 products listed in G2 Crowd's presentation software category, the ranked products each received ten or more reviews to qualify for inclusion on the Grid.
About G2 Crowd, Inc.
G2 Crowd, the world's leading business software review platform, leverages more than 70,000 user reviews to drive better purchasing decisions. Technology buyers, investors, and analysts use the site to compare and select the best software based on peer reviews and synthesized social data. Monthly more than a half-million people visit G2 Crowd's site. Co-founded by the founder and former executives from SaaS leader BigMachines and backed by roughly $12 million in capital, G2 Crowd aims to bring authenticity and transparency to business technology research. For more information, go to G2Crowd.com.