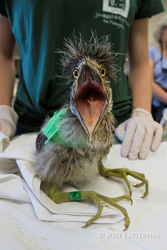 (Night-herons) are an integral part of our local ecosystem and watershed - Cindy Margulis, Executive Director of Golden Gate Audubon Society
Oakland, CA (PRWEB) April 28, 2016
Oakland Zoo and the Golden Gate Audubon Society (GGAS) have teamed up to help save fledgling Black-Crowned Night Herons and Snowy Egrets fallen from their nest trees onto the busy streets of Downtown Oakland. More than 75 nests have been identified by GGAS's trained docents, and many young birds have been rescued this nesting season so far.
Oakland Zoo's role in the rescue program is to retrieve the bird from its reported location, provide intermediary treatment, if necessary, and transport the bird to International Bird Rescue (IBR) in Fairfield for rehabilitation. Having the Zoo's experienced animal handlers serving as on-call rescue dispatch was a crucial component missing from the program in previous years.
"We are so heartened by the crucial assistance we've received from the Oakland Zoo in helping to save the lives of these young herons growing up in the heart of downtown Oakland.
The timeliness and professionalism of the Oakland Zoo's animal care team has inspired all of us," said Cindy Margulis, Executive Director of Golden Gate Audubon Society.
Once the birds reach IBR, a world-leading wild waterbird rehabilitative care center, care provided will also help them develop the full range of skills needed for survival once re-released in our region, such as self-feeding and flying.
"We are thrilled when our motto, Action for Wildlife, comes to life in our own backyard. It is very exciting to be part of a heroic effort to save these beautiful baby herons, and work with such respected partners as Golden Gate Audubon Society and International Bird Rescue. I am so proud of Oakland Zoo and the team effort we are putting forth to have a positive effect on the city of Oakland and the wildlife in our world," said Amy Gotliffe, Conservation Director at Oakland Zoo.
Earlier this month, GGAS launched public outreach efforts to educate residents of Downtown Oakland in what to do if they encounter a fledgling bird in trouble, through a sidewalk chalk-art event dubbed "Eco Art FlashMob: Chalkin' it up to Compassion for #OaklandHerons." GGAS has also been putting up educational posters and leading walking tours to inform people about the herons. Its docents have been trained to monitor the colony closely and watch for birds in trouble.
The dramatic-looking Night-Herons are long-time residents of Oakland and can frequently be seen foraging for fish, insects, and other food around Lake Merritt and on the estuary shoreline. "They are an integral part of our local ecosystem and watershed," said Margulis.
About Golden Gate Audubon Society
Founded in 1917, Golden Gate Audubon today serves over 7,000 members in San Francisco and the East Bay. GGAS engages people to experience the wonder of birds, and protect native birds and their habitats. Its award-winning Eco-Education program provides hands-on nature education to over 700 students annually from twelve schools in disadvantaged areas. GGAS volunteers lead over 150 free public field trips every year, exploring local habitats and observing bird species.
Among its many conservation campaigns, Golden Gate Audubon worked with the Cities of Oakland and San Francisco to enact the country's first municipal bird-safe building standards aimed at preventing bird-window collisions. GGAS volunteers restore habitat and provide monitoring to protect at-risk species such as California Least Terns and Western Snowy Plovers.
ABOUT OAKLAND ZOO:
The Bay Area's award-winning Oakland Zoo is home to more than 660 native and exotic animals. The Zoo offers many educational programs and kid's activities perfect for science field trips, family day trips and exciting birthday parties. Oakland Zoo is dedicated to wildlife conservation onsite and worldwide. Nestled in the Oakland Hills, in 500-acre Knowland Park, the Zoo is located at 9777 Golf Links Road, off Highway 580. The East Bay Zoological Society (Oakland Zoo) is a nonprofit 501(c)3 organization supported in part by members, contributions, the City of Oakland and the East Bay Regional Parks. For more information please visit our website at http://www.oaklandzoo.org