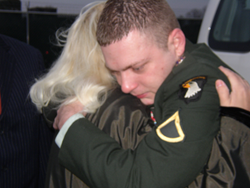 "We are calling on the Obama Administration to investigate and remedy this lack of adequate mental health services." The Combat Clemency Project
Kernersville, N.C. (PRWEB) April 28, 2016
This week, the Combat Clemency Project at the University of Chicago Law School submitted a clemency petition for Corey R. Clagett, a former Army Private First Class released on March 31, 2016 from the United States Disciplinary Barracks at Fort Leavenworth, Kansas after a decade of military incarceration. Clagett is one of seven combat veterans petitioning President Obama for a full or partial pardon or commutation of sentence. These servicemen were convicted of wartime killings that occurred in Iraq and Afghanistan. Of the seven, only Clagett and one other have succeeded in obtaining release on parole. The other five remain in the US military prison, serving lengthy or life sentences.
Financed by the non-profit United American Patriots (UAP) under the tutelage of the university's Professor Mark Heyrman, the law students traveled to Fort Leavenworth last fall to interview the seven men they are representing in the clemency petitions. The petitions also request that Posttraumatic Stress Disorder (PTSD) treatment, suspended at Leavenworth's Disciplinary Barracks in 2015, be reinstated in order to remedy the Army's alleged "lack of adequate mental health services" to treat PTSD and TBI (Traumatic Brain Injury) prior to combat.
On May 9, 2006, Corey Clagett and his squad operated as a part of Operation Iron Triangle in the Thar Thar region of Iraq. Stated in trial records from Clagett's August 31, 2006 Article 32 Military Trial in Iraq, United States of America v. PFC Corey Clagett, et al, Clagett was charged in Violation of the UCMJ, Art. 81, for allegedly conspiring with his teammate to the "premeditated murder of three detainees of apparent Middle-Eastern descent," allegedly thought to be al Qaeda. The Combat Clemency Project's appeal alleges that Clagett was following orders. (Article 32 Transcript at 500, ln 13-16, App. C).
According to court documents, Clagett was sentenced to 18 years confinement during his hearing at Fort Campbell, Kentucky on January 25, 2007 (United States of America v. PFC Corey Clagett), following his "pleas of guilty to two specifications of premeditated murder, one specification of attempted premeditated murder, and merged specifications of obstruction of justice and conspiracy to commit murder."
After three earlier failed parole applications,* Clagett's denial from his April 2015 application was overturned in June of last year. He now fundraises for UAP (http://www.unitedpatriots.org), which paid for his legal defense and that of other veterans convicted of war crimes.
Until his recent release, Clagett served nine years of an 18-year life sentence in Fort Leavenworth, and an additional year of incarceration in Iraq, Kuwait, and the U.S. prior to his sentencing (United States of America v. PFC Corey R. Clagett, AR 27-10). He was the last of the four soldiers convicted and sentenced in this incident to be released from prison. Screenwriter Sheryl Levine Guterman has written a screenplay about Clagett's involvement in Operation Iron Triangle for her Test Pilot Productions (slguterman@thekillboard.com).
Clagett's attorney, retired Marine Lieutenant Colonel Colby Vokey, represents four of the seven petitioners, including Clagett. The Presidential Pardon Petition has been submitted directly to President Obama, Robert Zauzmer, the Justice Department's Pardon Chief, and Patrick J. Murphy, Under Secretary of the Army, Department of Defense. In addition, a single petition for the seven veterans has been created at whitehouse.gov and requires 100,000 signatures by May 25, 2016 in order to get the attention of the White House. The petition can be found at https://petitions.whitehouse.gov/petition/review-combat-clemency-petitions-and-pursue-military-mental-health-reform.

United States v. Clagett, 2009 WL 6843560 (Army Ct. Crim. App.), review denied by United States v. Clagett, 68 M.J. 231 (C.A.A.F. 2009)
###