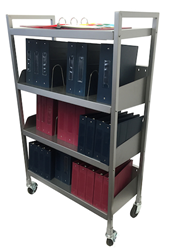 Chicago, Il (PRWEB) April 28, 2016
Carstens, a leading manufacturer of healthcare support products, announced the debut of their new FlexFit™ chart rack line. The FlexFit™ mobile chart racks provide a flexible chart storage option for hospitals and long-term care facilities. Unlike many chart racks available today, the FlexFit™ line can store any size ringbinder top-opening and side-opening on the same or separate shelves.
Flexibility and Durability
FlexFit™ chart racks come in five models that vary in size to accommodate as many as eighty 1" ringbinders to as few as eight 4" ringbinders and any combination in between. With FlexFit™ it's possible to store all charts, no matter the size, on the same chart rack. In addition, the 1½" shelf lip is perfect for labeling and the top functions as a convenient work surface.
The FlexFit™ is extremely durable. Built with the concept of adjusting to meet new chart storage needs over time, Carstens put plenty of thought into the lasting design. The FlexFit™ chart racks are built with 18-guage steel that is welded together to make an indestructible frame. Angled shelves keep charts from falling forward and adjustable dividers and side panels keep charts secure. Each chart rack is made to withstand the weight of 8 pound 3" charts at capacity.
Benefits for Hospitals and Long-term Care Facilities
Hospitals and long-term care facilities that use various size ringbinders will be able to store them all on the same chart rack rather than having to buy multiple chart racks that only fit a specific size ringbinder. The FlexFit™ chart racks are also adjustable to meet a facility's traditional charting needs as they transition to electronic health records. The flexibility the FlexFit™ chart racks offer and the durability of the design might just make the FlexFit™ the last chart rack a facility will ever need!
Availability
FlexFit™ chart racks are available for purchase today. Visit carstens.com for additional information including specs and images or call 800-782-1524 to speak with a knowledgeable customer service representative.
About Carstens
Carstens, Inc. is an established brand within the healthcare industry. Founded more than 125 years ago, the company pioneered putting patient information at the point of care with customized record systems. Today, Carstens brings new solutions to new demands with its WALLAroo® wall-mounted workstations and WALKAroo™ mobile carts, including the versatile LinkT™. As the healthcare industry evolves, Carstens continues to expand its line of EHR support products, offering innovative solutions for paper based record keeping, as well as the integration of electronic solutions at point-of-patient care. Carstens is a certified women-owned business and all of their products are made in the USA. For more information, visit http://www.carstens.com.