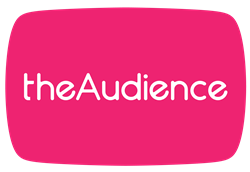 West Hollywood, CA (PRWEB) May 02, 2016
theAudience, a pioneer of social media publishing and influencer activation, announced today the addition of Mike Dodge as Chief Executive Officer and Debbie Menin as Executive Vice President of Strategic Partnerships overseeing the sales team. The two publishing industry veterans join Chief Creative Officer Patrick Mulford, who has been with the industry-leading social media publisher since 2013.
Founded in 2011, theAudience is known for having built the social media presence of hundreds of A-List celebrity and entertainment influencers by finding innovative ways to engage authentically with their audiences. Today, the company leverages that expertise on behalf of global brands to curate and produce content that attracts highly engaged fan bases. Top-tier consumer brands and entertainment properties rely on theAudience to turn their online presence into thriving media properties that can be monetized in multiple ways.
"theAudience built both its reputation and its unique position in the marketplace by learning how celebrities and social influencers can captivate such large networks of fans, and then applying that knowledge to the world of branded content," said Mulford. "Bringing such forward-thinkers as Mike and Debbie on board demonstrates our ongoing commitment to connecting global companies to their audience in meaningful ways."
Prior to theAudience, Dodge was the Chief Operating Officer at Evolve Media, an online publisher of leading enthusiast lifestyle destinations for men (CraveOnline Media), women (TotallyHer Media) and connecting the affluent online (Martini Media). He has also held management positions at Internet Brands, General Electric, McKinsey & Company and Procter and Gamble. Mike holds a BA from the University of Chicago and an MBA from the Harvard Business School.
"I am looking forward to using my most recent experience in connecting brands to millennial audiences with the expertise, imagination and passion that theAudience has for delivering brand engagement online through social media campaigns," commented Dodge.
With an extensive background in advertising sales, management, and strategy, Menin has proven success developing substantial new revenue streams by integrating brands seamlessly into entertainment content. Most recently, she was Head of Strategic Partnerships at Federated Media/Media General. Menin also previously held senior positions at Machinima, Yahoo!, AOL, Huffington Post, Conde Nast (Parade and Parade.com), MTV Networks, and Variety. She graduated cum laude from Washington State University with a BA in Communications (Advertising).
"The leading edge social publishing capabilities that theAudience leverages to weave brands into the fabric of popular culture is what attracted me to the company," added Menin. "Developing strategic social partnerships with Fortune 500 companies is what most excites me about joining Mike and Patrick."
Mulford is responsible for leading creative and strategic direction at theAudience. He writes and speaks at top industry conferences about the behavioral psychology that lies behind social networks. Some of the recent brands he has helped guide include American Express, Calvin Klein, Ford, McDonalds and Target.
About theAudience:
theAudience is a pioneer of social media publishing and influencer activation, telling captivating stories that weave brands into the fabric of popular culture. Using influencers as a primary distribution channel, we connect global brands to consumers through 'shared values'. We were founded in 2011 and acquired in 2015 by Al Ahli Holding Group, with offices in Los Angeles, New York and Dubai. Follow us on Facebook, Twitter and LinkedIn.