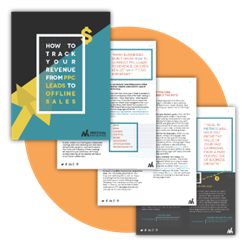 With search ads accounting for nearly $12 billion in revenue each year, it's imperative that marketing and sales leaders fully leverage the power of pay-per-click advertising.
Phoenix, Arizona (PRWEB) April 28, 2016
Pay-per-click (PPC) advertising has been around for two decades, but for many organizations, it remains a surprisingly under-utilized resource. That's because PPC campaigns are frequently conducted in marketing silos, segregated from the efforts of the sales team. As a result, PPC leads often go untracked, genuine prospects fall through the cracks, and potential revenue is left on the table.
This is why Vertical Measures, a leading, full-service Internet marketing agency, created How to Track Your Revenue from PPC Leads to Offline Sales, a new downloadable guide created to serve as a blueprint for organizations seeking to fortify their understanding of how PPC can produce a positive ROI for their business' bottom line.
The 10-page guide provides step-by-step instructions, detailing how to accurately connect the dots between online leads, offline sales, revenue, and long-term digital strategy. The guide also:

Details how to cultivate cross-team collaboration between sales and marketing;
Recommends straightforward tools to precisely track leads;
Suggests steps to effectively follow up and convert online traffic;
Offers simple methodologies to confirm your PPC efforts are generating qualified customers.
The guide also includes a list of 10 vital paid advertising metrics, which identifies important calculations to use in determining the value of ads, including cost per lead, revenue per click, break even points, and other key measurements.
"The hard truth is many companies simply don't know how to tie PPC leads to revenue," says Chris Bird, President of Vertical Measures. "In fact, they don't even know where to start. Fortunately, our new guide demonstrates the steps that need to be taken to attribute revenue to paid advertising leads, and how doing so can help businesses better optimize their PPC campaigns to ensure continued growth."
With search ads accounting for nearly $12 billion in revenue each year (according to an Interactive Advertising Bureau report) – it's imperative that marketing and sales leaders fully understand and leverage the power of their pay per click program. Whether an organization is new to digital advertising, or has a full staff of sophisticated marketing professionals, anyone can benefit from downloading a copy of this PPC guide to maximize their online ads.
About Vertical Measures
Vertical Measures is a full-service Internet marketing agency dedicated to helping clients drive profitable growth through content marketing. Based in Phoenix, AZ, Vertical Measures' core specialties are technical search engine optimization, content marketing strategy and implementation, and profit-driven PPC management.