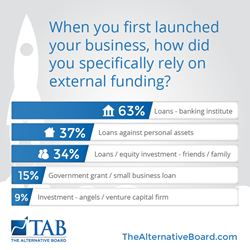 Know exactly how you will use the money, be prepared for unexpected expenses, and plan to scale up as you grow.
Denver, CO (PRWEB) April 28, 2016
The Alternative Board (TAB) polled hundreds of business owners to learn more about how they funded their business and how they would fund it differently if they had the chance to start over. The survey shows that the majority of business owners (80%) got their start through self-funding. Additionally, in the same study, 61% of business owners advised other entrepreneurs to "only borrow if you have no other option."
"Exercise caution when taking out additional capital," warns TAB Vice President David Scarola. "Have a strong understanding of your current cash flow and a detailed plan for the supplemental income. Prudent spending is key to a business's financial success."
When business owners did need to raise capital, 63% turned to loans from banks over loans from friends/family (34%), government grant programs (15%), or venture capital firms (9%). Forty-four percent of those surveyed felt small community banks were better equipped to handle their needs than larger institutions.
So what would business owners have done differently? According to the results, business owners wish they had borrowed more (29%) rather than less (11%), while maintaining greater ownership of their business. 37% of those surveyed felt they gave up too much when securing equity investment.
Looking back, the most important lessons business owners learned about securing external funding were to borrow at the right time (34%), from the right source (34%), at the right amount (19%), with the right advisor at their side (13%).
Fortunately, the majority of business owners felt they spent the capital they borrowed wisely, rating how well they used the external capital as an 8.2 (on a scale of 1 being the least effective and 10 being the most). For most entrepreneurs, additional capital was always a boon, provided they had a solid plan in place before receiving the additional funds.
That trait – having a plan for additional capital – seems to be the key to sustained growth. "Have a strategic business plan," says Scarola. "Know exactly how you will use the money, be prepared for unexpected expenses, and plan to scale up as you grow."
The Alternative Board is an international executive peer advisory franchise representing over 3,000 business owners worldwide. For full survey results, executive summary or an exclusive interview with TAB Vice President David Scarola, contact Lynn Maleh at lynn(at)contentfac(dot)com.