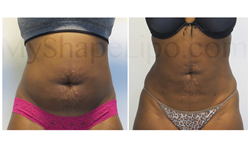 Patients can be reassured that their improvements will last and they need not worry about putting weight back on disproportionately.
Las Vegas, NV (PRWEB) May 02, 2016
A common myth in the cosmetic industry is that "the fat comes back after liposuction." This has likely kept many skeptics from getting the procedure in fear that they would be wasting their money only to find the fat comes back after a short time.
Patrice Blackmon, patient of MyShape Lipo, recently appeared on Las Vegas local FOX 5's More Show to share her experience with liposuction and fat transfer to the butt, also known as the "Brazilian Butt Lift." She had her procedure over one year ago and could not be happier with her results.
Blackmon's radiant personality and sexy curves caught the attention of the television audience. She appeared on the show shortly after she had her procedure nearly a year ago to show off her amazing results. Now, one year later, she's back to discuss how the procedure has affected her life. The host of the More Show, Monica, refers to Patrice as their "ratings booster" because of the response they received from her first appearance.
"This whole experience has truly changed my life," says Blackmon. "It's given me the confidence to take more risks and start my own business. MyShape Lipo is amazing and I am so happy I chose to have my procedure there."
Patrice explained that she had actually gained a few pounds over the past year and noticed that it all went to her butt, which is exactly what she was hoping. To her surprise, the belly was still flat and looked just as good as it did after her procedure.
"It's simple: We gain weight where we have fat cells, so when we remove the cells through liposuction, it is much easier to maintain a trim look since there are less cells present," says Trevor Schmidt PA-C, the owner and liposuction specialist at MyShape Lipo. "Similarly, when we transfer more cells to the butt, you're more likely to gain volume in that area with weight gain."
In a study presented at the American Society of Plastic Surgeons (ASPS), titled "New Study Refutes Previous Findings Claiming Fat Returns, Redistributes to Other Areas of the Body," they found no evidence of fat regrowing in the treated areas, nor did they find evidence of redistribution of fat into untreated areas.
"Liposuction does not change your ability to gain or lose weight. Its value is in permanently reducing the number of fat cells in problem areas. For any given weight you will be in the future, your proportions will be better after liposuction, barring extremes in weight gain," states Dr. Eric Swanson, MD. "Patients can be reassured that their improvements will last and they need not worry about putting weight back on disproportionately."
"It's just like Trevor told me. When I gained weight, it went to my butt and my waist stayed nice and trim," says Blackmon. "I've received so many compliments and support from friends and family. I couldn't be happier with my results!"
Those that are concerned about the fat coming back after liposuction can finally rest assured that the results are in fact permanent. However, it is still recommended to continue with a healthy routine including diet and exercise to maintain their overall health.
"These results are typical of our patients at MyShape Lipo," says Schmidt. "When you aggressively remove fat from an area, it is highly unlikely that you would ever be able to regain the same disproportionate amount in that area."
About MyShape Lipo
MyShape Lipo is a specialty clinic located in Las Vegas, NV, which focuses on liposuction, fat transfer and skin tightening. They attract patients from around the globe who take advantage of their extensive experience and affordable rates. Trevor Schmidt PA-C, their owner and liposuction specialist, has performed over 15,000 liposuction procedures on all shapes and sizes. His goal is to "remove as much fat as possible, while leaving smooth and even results." They offer a complimentary consultation in person for locals or over the phone for those from out of the area. Call now to schedule a consultation, 702-818-5476, or visit their website at http://www.myshapelipo.com.