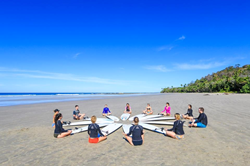 "This was just an exemplary experience from start to finish. I would definitely recommend this trip to anyone needing to de-stress or have as high energy a time as you can handle! A well organized, Zen and oh so fun getaway." - Vajra Sol retreat guest
Santa Teresa, Costa Rica (PRWEB) April 28, 2016
Vajra Sol's life-balance focused yoga retreats, which include a surfing or stand up paddling component, have a strong appeal to women and men who have demanding work schedules and pressured personal responsibilities as a pleasurable way to diminish stress that accumulates over time.
The retreats are hosted at an upscale, beachfront resort in the bohemian surf town of Santa Teresa on the Pacific Coast of Costa Rica. As a tropical destination, most visitors choose to visit between December and April during summer and when it is winter in the north. However, two of the main reasons why many people join the retreat are common throughout the year. Rest and relaxation are not a seasonal need.
To address the need for more dates, summer and fall retreats are scheduled for June 19 - 25, August 14 - 20, November 6 - 12 and November 27 - December 3.
In additional to daily Vinyasa Flow style yoga classes with meditation and breathing practices, retreat guests choose from surfing or SUP lessons, and have a massage or spa treatment included in their package.
Being physically active is a beneficial method to release tension in the body. Learning a new activity as an adult, such as surfing or SUPing, activates an in-the-present-moment awareness, which is a relaxation stimulator.
The retreat is limited to 16 persons to maintain personal attention to each guest. Many come on their own before joining the group.
Due to many travelers planning their vacations often a year in advance, Vajra Sol has already set the 2017 winter season dates for their Costa Rica yoga retreats.
A recent guest from two weeks ago gave her review about Vajra Sol's retreat on Trip Advisor. "This was just an exemplary experience from start to finish. I would definitely recommend this trip to anyone needing to de-stress or have as high energy a time as you can handle! Sandra [retreat leader], with her kind and beautiful spirit, made this a well organized, Zen and oh so fun getaway for the whole group." Vajra Sol has received the latest Trip Advisor Certificate of Excellence.
From the Luxury Travel Guide, Vajra Sol received the Authentic Experience of the Year for Santa Teresa in the 2016 Holiday & Tour Specialist Awards this past week.
Vajra Sol Yoga Adventures is based in Costa Rica and was founded in 2005 to bring together like-minded travelers who have an affinity for yoga, adventure and travel to pristine nature settings. Vajra Sol offers yoga, surf, and stand up paddle (SUP) retreats in Costa Rica and Peru yoga retreats in the Sacred Valley and to Machu Picchu. In 2017 a new retreat destination will be added.