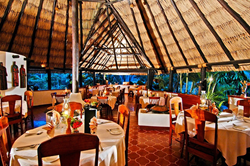 I cannot imagine anyone being disappointed with a decision to make Belize their second home,
San Ignacio, Belize (PRWEB) April 29, 2016
With recent media reports describing Belize as a top retirement destination, The Lodge at Chaa Creek is offering prospective retirees especially designed vacation packages tailored towards combining fact finding visits with a relaxing Belizean holiday, according to Chaa Creek's chief financial officer Cynthia Roberson.
Ms Roberson explained that as Belize continues to offer strong incentives from both financial and lifestyle considerations, and with western Belize's Cayo District becoming known for offering a particularly wide variety of retirement options, Chaa Creek's retirement-focused vacations are becoming more popular.
The Cayo-based eco-resort, which has been assisting people in exploring and settling in to Belize for decades, is especially well suited to help, she noted.
"While Belize's Caribbean coast and islands such as Ambergris Caye have been popular for many years, the Cayo District has been gaining more attention lately, and for good reason," she said, "When you consider real estate prices, a growing infrastructure, ease of travel to and from the United States and Canada, value for money, the strong sense of community along with a wide range of settings, activities and other considerations, Cayo has many pluses."
"And Chaa Creek, with a national network of colleagues and trusted professionals offering real estate, legal and other services has been helping people to become familiar with Belize while enjoying a relaxing, affordable vacation," she added.
Ms Roberson pointed to a Huffington Post piece earlier this year, "12 Best Places to Retire", that listed Belize as number two, noting that;
"Belize is a sunny country that's easily accessible from the United States and where the folks all speak English. It's also one of the easiest places in the world to establish foreign residency, as well as a banking and a tax haven. You could live and run a business here tax-free."
A more recent post in the popular online consumer advice site Cheapism also promoted Belize, noting that the country "earned a 98 in the 'fitting in' category in International Living's retirement index."
Ms Roberson said that while such descriptions are accurate, the best course of action is to "do some reading and research, and then come down for a visit and see for yourself. Everyone has different criteria to meet in choosing the perfect retirement home, but we can help make the process easier.
"Over the years, Chaa Creek has become adept at pointing visitors in the right direction as far as matching locations to individual expectations and budgets, contacting trusted professionals offering relevant services, and basically helping prospective retirees in getting the most out of their time in Belize. By combining a holiday featuring lovely accommodations, fine dining and enjoyable amenities with a comprehensive fact finding tour, people can get a feel for the land and people while relaxing and enjoying themselves."
Ms Roberson said that Chaa Creek's location; set within a private 400 acre nature reserve on the banks of the Macal River yet close to San Ignacio town and within easy reach of the national capital and administrative centre of Belmopan, allows visitors to explore, make enquiries, compare locations and prices during the day before returning to their rooms to relax, enjoy the amenities such as an infinity pool,internationally recognized spa and farm-to-table dining at the Lodge's Mariposa restaurant courtesy of the onsite traditional Maya organic farm.
Chaa Creek also has staff members who are especially knowledgeable about retirement in Belize, and by alerting the resort directly or through a travel agent that guests are considering retiring to Belize, vacations can be tailored to became an effective and enjoyable fact-finding visit.
"We've assisted many people in realizing their dreams to retire to Belize for decades, and we still have the willingness, as well as the experience and expertise, to do so," Ms Roberson said.
Cayo is one of Belize's most varied districts, incorporating the national capital of Belmopan, the growing twin towns of San Ignacio and Santa Elena, the vast Chiquibul national forest and a wide range of geographical features from lush jungle, pastoral lands, and the airy Mountain Pine Ridge. The Mennonite farming community of Spanish Lookout produces an abundance of meat, produce and dairy products as well as equipment and a range of professional services, she said.
"People are happily surprised with the availability of goods and services, and the fact that English is the national language and Belize's currency is pegged two-to-one to the US Dollar makes retirement in Belize a familiar and comfortable proposition," Ms Roberson explained. "For example, a vibrant, sophisticated foodie culture that emphasizes fresh seafood and farm-to-table dining has developed in Cayo and San Ignacio. At Chaa Creek, our Maya organic farm is an interesting attraction as well as a source of fresh organic produce for the onsite Mariposa restaurant and the Guava Limb Café in in San Ignacio, which was voted as Belize's best restaurant of 2015 by the Belize Tourism Board," she added.
The consumer site Cheapism's, April 2016 feature, "14 Affordable Countries for Americans to Retire Overseas" that, using data from the 2016 Global Retirement Index, ranked Belize as one of the top fourteen.
"Belize makes it easy for expats to attain residency status via its Qualified Retired Persons program, according to AARP, (American Association of Retired Persons) just one reason this tiny nation is especially appealing for Americans in retirement," the Cheapism post advises.
Ms Roberson again stressed that while the recent glowing media reports are relevant, nothing can match first-hand experience.
"I cannot imagine anyone being disappointed with a decision to make Belize their second home, but still strongly advise that prospective retirees come down and get to know the land and people for themselves.
"They won't be disappointed, and can enjoy a great vacation at the same time. And, with an all-inclusive Belize family vacation package, they can involve the entire family while having a wonderful time together.
"It's a win-win situation and we're here to make visits as productive and enjoyable as possible," Ms Roberson said.
The Lodge at Chaa Creek is a multi-award winning eco-resort situated within a 400-acre private nature reserve in Belize's Cayo District.
ENDS