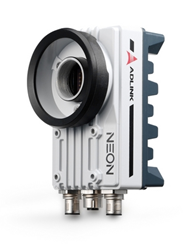 ADLINK will feature a live demonstration of the company's latest model of a powerful, new generation x86 smart camera
San Jose, CA (PRWEB) April 28, 2016
ADLINK Technology, a leading global provider of cloud-based services, intelligent gateways and embedded building blocks for edge devices that enable the Industrial Internet of Things (IIoT), invites attendees to view the company's latest smart camera, complete vision systems and Matrix series of expandable and low cost computing platforms for graphic-intensive vision applications in Booth 1017 at AIA's The Vision Show from May 3-5 at the Hynes Convention Center in Boston, MA. ADLINK will also be presenting a HOT CORNER topic - Boosting Processing Power with Built-in FPGA Image Pre-processing - on Wednesday, May 4 at 10:30 am at the event theater.
ADLINK will feature a live demonstration of the company's latest model of powerful, new generation x86 smart camera, the NEON-1040, offering minimal footprint and advanced computing power. Rugged construction with IP67-rated housing and M12 connectors enable the NEON series to withstand harsh industrial environments. The high-end, quad-core Intel-based processor, FPGA co-processors and GPU provide advanced image processing capabilities ideally suited to high-speed, high-resolution industrial imaging applications.
Other highlights include the 4-CH GigE EOS compact vision system with 6th generation Intel® Core™ processors, as well as several models of ADLINK's Matrix line of embedded computers. These configurable vision systems feature an expandable model and low cost / high value option, both with high performance 6th generation Intel® Core™ processors. ADLINK's new MVP series targets single-purpose vision applications, while the MXC line offers customizable models for scale and flexibility. In addition, the company's IMB-M43 high density board and a variety of frame grabbers and video capture cards will also be on-hand.
For more information on ADLINK's presence at the Vision Show, please visit http://www.adlinktech.com/events/aia2016/
For more information on The Vision Show or to register, please visit http://www.visiononline.org/mvo-content-adv.cfm?id=247
About ADLINK
ADLINK Technology is enabling the Industrial Internet of Things (IIoT) with innovative embedded computing solutions for edge devices, intelligent gateways and cloud services. ADLINK's products are application-ready for industrial automation, communications, medical, defense, transportation, and infotainment industries. Our product range includes motherboards, blades, chassis, modules, and systems based on industry standard form factors, as well as an extensive line of test & measurement products and smart touch computers, displays and handhelds that support the global transition to always connected systems. Many products are Extreme Rugged, supporting extended temperature ranges, shock and vibration.
ADLINK is a Premier Member of the Intel® Internet of Things Solutions Alliance and is active in several standards organizations, including PCI Industrial Computer Manufacturers Group (PICMG), PXI Systems Alliance (PXISA), and Standardization Group for Embedded Technologies (SGeT).
ADLINK is a global company with headquarters in Taiwan and manufacturing in Taiwan and China; R&D and integration in Taiwan, China, the US, and Germany; and an extensive network of worldwide sales and support offices. ADLINK is ISO-9001, ISO-14001, ISO-13485 and TL9000 certified and is publicly traded on the TAIEX Taiwan Stock Exchange (stock code: 6166).
# # #
Intel and Core are the property of Intel Corporation in the U.S. and other countries. All other trademarks are the property of their respective owners.