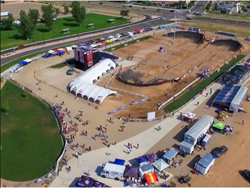 Gilbert, AZ (PRWEB) April 28, 2016
For the second time in nine months, riders from around the globe will converge on Grand Junction, Colorado for the USA BMX Mile High Nationals and North American Supercross Series. One of only two U.S. stops that offered the all important Olympic qualifying points twice within the year.
Olympic Silver medalist Sam Willoughby (Australia) will look to repeat as he was the winner in 2015. Two-time Olympic Gold Medalist Maris Strombergs (Latvia) will try and make sure that doesn't happen. US Olympian, Alise Post (Minnesota) will look to repeat in the women's pro class. All three riders are favorites to make the Olympic team for their countries. In addition many other riders will be competing for Olympic points as they compete in the North American Supercross Series. American riders will also be trying to qualify for the United States Olympic Trials Last Chance Qualifier. Grand Junction is the third and final stop for qualifying points.
The 3-day national event will get underway Friday, April 29 with racing beginning at 2:30 PM. Action will begin with the pros and they will run every hour and half with semi or main events beginning at 6:30. Amateur racing will be throughout the day beginning around 3:00 PM.
Saturday racing will kick off at 12:30 PM with the pros and they will again run every hour and a half. Amateur racing will begin around 1:00 PM. Sunday racing will begin at 8:00 AM.
The Mile High National is expected to draw around 1,000 entries from 15 states and several countries. Riders from Japan, New Zealand, Canada, and Australia have already visited the track. The 2015 Mile High Nationals had an economic impact of over $775,000 in Mesa County. This year, the event is expected to be even larger. With amateur riders competing Friday, Saturday, and Sunday in the three-day national event, the Mesa County Fairgrounds will be filled with BMX racers ranging from as young as two-years-old to riders competing in the 61 and over class. Grand Junction locals will be competing in almost every age category and many are hoping to be in contention for a national age group title at the end of the year.
There is no admission charge for the event and parking is $10. Grand Valley BMX operates weekly at the Fairgrounds with racing every Sunday and on Tuesday evenings during the summer. The track is one of the top tracks in the United States and annually draws thousands of riders into Mesa County.
For more information on Grand Valley BMX visit grandvalleybmx.com. To find more information on USA BMX or the Mile High Nationals, visit usabmx.com.