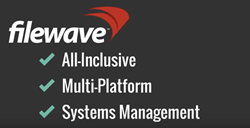 FileWave assists IT teams throughout the entire lifecycle process of imaging, deployment, management and maintenance
INDIANAPOLIS, IN (PRWEB) April 28, 2016
FileWave, a global leader in Windows, OS X, iOS and Android device management, announced today that version 11 of their flagship FileWave Management Suite, as well as version 4 of their cross-platform FileWave Imaging solution, are now available for download.
A GROWING NEED FOR DEVICE MANAGEMENT
Device management needs have come to the forefront of importance in recent years as technology in enterprise and education environments continue to rise. Increases in 1:1, 1:many, BYOD, and CYOD (Choose Your Own Device) initiatives have caused institutions to implement Mobile Device Management (MDM) and Mobile Content Management (MCM) strategies into their overall management plans. Software solutions, such as FileWave, streamline operations and solve issues of manpower and security.
FILEWAVE MANAGEMENT SUITE v11
New features of FileWave 11 include a unified PostgreSQL backend that brings improved performance, increased scalability, and faster time to market. Additional performance and scalability enhancements include FileWave Boosters, which have always been an efficient and affordable way to scale an institution's device management capabilities. Now, with FileWave 11, Boosters are even more powerful as they can handle most client data traffic, not just file downloads – greatly reducing server load and improving performance.
Numerous changes and additions have also been made to the FileWave Admin console, making it faster and easier than ever to manage users, devices, and content with the FileWave Management Suite. FileWave's new LDAP integration for FileWave Admins allows simplified user management by using existing LDAP infrastructure for Admin authentication and permissions.
Other upgrades include new client state options, automation/command line improvements, and significant script improvements, in addition to continued comprehensive support of iOS 9.3.
FILEWAVE IMAGING v4
FileWave also announced upgrades to their cross-platform Windows and Mac imaging solution with the release of Imaging v4. Most notably, Imaging v4 includes features designed to expand hardware and configuration support for Windows, and increased hardware and iOS support for Mac.
To learn more about the new features and improvements, or to download a free trial, visit http://www.filewave.com.
ABOUT FILEWAVE
Founded in 1992, FileWave provides education, enterprise, and government institutions around the world with multi-platform endpoint management software to assist IT teams throughout the entire lifecycle process of imaging, deployment, management and maintenance.
FileWave's all-in-one, highly scalable solution solves the many challenges of managing a diverse and growing population of users, devices, and content by ensuring organizations have a comprehensive solution that supports both client (desktop) and mobile devices across Mac, Windows, iOS and Android.