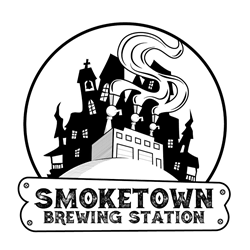 Brunswick, MD (PRWEB) April 28, 2016
Smoketown Brewing Station is proud to announce the grand opening of its taproom and brewery in Brunswick, Maryland. Founded by David Blackmon, the location at 223 W. Potomac Street in Brunswick, brews traditional craft beers in their 7 barrel brewhouse. The 16,000 square foot, two story building was previously home of the Brunswick Volunteer Fire Station. David had a vision to recreate a place where people would come from the community, but also a place local tourists can visit. The location is just steps from the Potomac River, C&O Canal and MARC train.
"This project has been in the works for 18 months. Our "soft opening" the last few weeks has been awesome. It is great seeing people come out to Brunswick and enjoy the area", said Blackmon. Head brewer, Mitch Pilchuk, joined Smoketown Brewing Station team in October. Owner, David, is thrilled to have him on his team: "Mitch is an amazingly, talented, brewer. He strives for consistency, quality, and great flavor in every beer he makes. I have given him full creative control in the brew house and he's running full steam ahead."
To celebrate, the taproom will be hosting a Grand Opening on April 30, 2016. There will be a ribbon cutting ceremony and private event from 12-2 pm, then doors open to the public. The taproom will be open offering five signature beers and one limited cask release. There will be food available for those that need something in their belly provided by Market Table Bistro. Visitors can try any of their six various beers on draft and can purchase growlers to go. A portion of the day's proceeds will be donated to the Brunswick Volunteer Fire Department.
EVENT DETAILS
April 30, 2016
Ribbon Cutting 11:45 am
Private Event 12-2 pm
Open to the public 2-10pm
For more information please email kathy(at)smoketownbrewing(dot)com or on the web at smoketownbrewing.com.