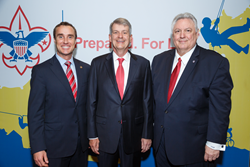 "The selection of Tim for this honor is fitting given his exemplary business leadership at one of the nation's largest financial institutions, which makes community building a priority." - Gerry Morton, GLAAC President and Board Chair
Los Angeles, CA (PRWEB) April 28, 2016
The Boy Scouts of America's Greater Los Angeles Area Council (GLAAC) raised nearly $300,000 at its 9th annual Business Leaders' Breakfast held April 27th that was attended by nearly 500 at the Millennium Biltmore Hotel in Downtown Los Angeles. Timothy (Tim) J. Sloan, Wells Fargo's President and Chief Operating Officer, was recognized as 2016's Leader of the Year at an event that recognizes exceptional efforts by area business leaders to improve the lives of youth in communities across Southern California.
The event was highlighted by hearing the story of how Ryan Gonzalez, a 15-year-old Scout from San Marino Troop #355, saved the life of FBI agent Tim Dixon by performing the Heimlich maneuver to clear his airway. For his heroic efforts on February 27, 2016, Gonzalez was given the Lifesaving Action Award.
"The selection of Tim for this honor is fitting given his exemplary business leadership at one of the nation's largest financial institutions, which makes community building a priority," said Gerry Morton, GLAAC President and Board Chair. "Tim's business credentials are impeccable and yet with all of his responsibilities leading Wells Fargo he's found time over the years to support the Boy Scouts organization."
Sloan is responsible for the operations of Wells Fargo's four main business groups: Community Banking, Consumer Lending, Wealth and Investment Management and Wholesale Banking. A 28-year veteran of Wells Fargo & Company, he's served as the chief financial officer and was responsible for the financial management functions.
"I understand the positive impact that Scouting has had on our family, our Scout Troop and the youth in our community," said Sloan. "One of my proudest accomplishments in Scouting was leading two treks to Philmont and surviving." (Philmont Scout Ranch is the Boy Scouts' largest national High Adventure Base of rugged mountain wilderness in the Sangre de Cristo range of the Rocky Mountains in northern New Mexico.)
The long-time resident of San Marino became involved with the Boy Scouts in 1999 when his sons were growing up. He served as Assistant Scoutmaster for Troop #355 in San Marino. He is now the proud father of two Eagle Scouts.
Sloan also served on the Board of the Boy Scouts of America, San Gabriel Valley Area Council in 2005 and 2006, and was an important part of the Endowment and Investment Committee. 
Sloan's strong community commitment extends to his service on the Board of Overseers of the Huntington Library, and membership in the University of Michigan's Ross School of Business Advisory Board. He is a trustee of Ohio Wesleyan University and the City of Hope. He is also a member of the Board of Directors of California Resources Corporation and recently became a Trustee at Caltech.
Co-Chairs for the 2016 event were Mike Birkholm and Thomas McDonald. The pair note the L.A. business community is returning to support the Boys Scouts in a significant way. Organizations sponsoring the 2016 Business Leaders' Breakfast include:
·      Kennedy Wilson (presenting)
·      Colony Capital (presenting)
·      Eastdil Secured (presenting)
·      The Gill Corporation
·      Wells Fargo & Company/Tim Sloan
·      A.C. Martin
·      Price Waterhouse Cooper
·      Payden & Rygel
·      Carpenters Union
·      Davis Bacon Material Handling
·      Creative Future/Warner Brothers
·      Metro/MetroLink/Amtrak
·      Northrup Grumman
·      Guardian Group, Inc.
·      EU Capital Advisors
·      The TCW Group
·      Century Hill Realty
·      Deloitte
·      Dentons
·      Green Hasson Janks
·      Illig Construction/Tilden Coil
·      John H. Kedeshian
·      Meshulam Financial
About The Boy Scouts of America, Greater Los Angeles Area Council
The Greater Los Angeles Area Council (GLAAC) started in 1915 and has served millions of youth since its inception. Currently, GLAAC annually serves more than 26,000 youths across greater Los Angeles, delivering quality programs each year via 10,700 trained adult volunteers. With a focus on character development, Scouts are trained to be the leaders of tomorrow.
The GLAAC continues to grow and seek ways to inspire success in the lives of youth through activities ranging from camping to rocketry. Merit Badge Days have taken youth into the construction site of the tallest building west of the Mississippi, in front of judges at mock court, and into financial literacy sessions. In 2014, more than 12,500 Merit Badges were awarded to Scouts for successfully completing service projects such as food drives to fight hunger and Eagle projects in their local communities. Scouts also continue to stand as role models of good citizenship at civic events and parades, including the Rose Parade.
BLBscouts.org
# # #