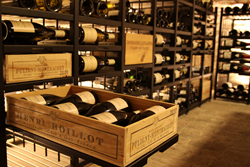 "…..The engineering is impressive with well thought out design finishes. …It holds all my bottles including the Turleys…." A private collector outside Houston.
(PRWEB) May 03, 2016
Up until now, the selection of metal wine racks designed for large wine rooms has been fairly limited in the Unites States. NCV Custom Wine Rooms has been searching for a metal wine rack system that is not only modular and functional, but designed specifically for serious wine collectors. NCV is happy to announce that they are bringing the Degre12 racking systems to Texas and offering it to their custom wine room customers.
"The racking systems from Degre12 are unlike anything that I have ever seen. One look convinced me that they are ideal for my clients and their custom wine rooms. The look of the racks works in traditional and contemporary settings. The functionality and access to the bottles is unsurpassed, and the engineering is impeccable. I knew we needed to bring this system from Europe to Texas." says Jost Lunstroth, Managing Director of NCV Custom Wine Rooms LLC.
Lunstroth has been building custom wine features throughout Texas since 2005 and won the Sub Zero / Wolf Kitchen Design Award for Wine Storage in 2006 / 2007. He also created the unique wine storage concept, Nos Caves Vin, which has two locations in Houston. (http://www.noscavesvin.com)
"For years, the choices when building a custom wine room were what type of wood or how many sections of the frequently found metal rack product do you want. Now, we can build that dream wine room using these gorgeous metal racks, or with racks using a selection of hardwoods made with traditional joinery or from stainless steel cables or some combination of them all. NCV's focus will always be on proper wine storage that protects the wine, but we also maintain our high quality standards with style and personal preference in mind," said Lunstroth.
The system includes the Classic, a line of shelves and sliding trays designed for wine rooms and the Sliding, a line designed for refrigerated wine cabinets. Both lines include fixed shelves and sliding trays that hold OWC's or bottles. The selection of fixed or sliding trays is completely customizable within the selection of pre-determined heights and widths of the racking section making it ideal for custom wine room designs.
"The Sliding system is especially interesting. Most racks used in refrigerated wine cabinets have various limitations. The Sliding system consists of sliding trays that will hold any size bottle, from 750 to Jerobaums, or Original Wood Cases (OWCs)," says Lunstroth.
Lunstroth recently worked with a private collector outside Houston who selected the Degre12 system after analyzing other metal and wood racking systems. "I chose this system because the sliding shelves gave me really good access to my bottles, the shelves are designed to hold a variety of bottle sizes and the price was reasonable. Once the racks were installed, I saw the engineering is impressive with tight tolerances and well thought out design finishes. It holds all my bottles including the Turleys," said the collector who prefers to go unnamed.
The Degre12 racking system is manufactured in Belgium and has been installed throughout Europe and parts of the Middle East since 1995. Degre12.com
NCV Custom Wine Rooms LLC is a division of Nos Caves Inc. the owner and operator of Nos Caves Vin. Ncvwine.com