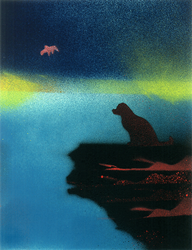 The cans of paint each hold a kind of Genie which I can summon. The Genie hisses forth in a puff of colored mist to form the images you see in the Woof Woof Books
Mechanicsburg, PA (PRWEB) April 29, 2016
Woof Woof Book (http://www.woofwoofbook.com) is a website for children's books written by Peggy Sue and illustrated by Mary Gleason. The stories are about animals and the exploration of their dreams and desires that teach lessons on life. The first and only book currently on the website is "The Moon Goes Down and The Sun Comes Up", however more stories are to be presented in the upcoming months.
Woof Woof Book was created to share meaningful bedtime stories, not only for children, but also for adults. Everyone can learn valuable lessons by reading the books. There are "little life lessons" in each and every one with beautiful illustrations to match. The unique pictures Mary creates are formed by using spray paint.
Mary, the illustrator for Woof Woof Book, graduated from Kutztown State College with a Bachelor of Fine Arts with a concentration in painting in 1979. She is a self-employed clockmaker and prides herself in being a naturalist and artist. When asking Mary about her inspiration she stated, "I consider each experiment in art a blend of luck and skill. The cans of paint each hold a kind of Genie which I can summon. The Genie hisses forth in a puff of colored mist to form the images you see in the Woof Woof Books. The Genie has granted me three wishes: I wished that the paintings be beautiful, that they be meaningful and well, I saved the last wish for later. I might need it."
Woof Woof Book is a place for people and their pets. Woof Woof Book loves sharing "little life lessons" for people of all ages. Visit the website http://www.woofwoofbook.com for more information and to read the first book (more stories to come).