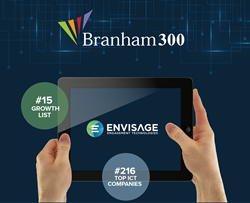 (PRWEB) April 29, 2016
Envisage Engagement Technologies announced today that it has ranked #216 on the Branham300 list of Top 250 Canadian ICT companies, #15 in Branham's Fastest Growing category and #9 on the list of Movers & Shakers.
The Branham300 list highlights the overall performance of the Canadian technology sector and ranks individual companies by revenues. The report, released this week, notes that Canada's Top 250 ICT companies delivered another banner year in 2015, generating a total revenue of $96.1 billion, an increase of 5.7% compared to the year prior. During that period, Envisage achieved record revenue with a 76% increase over 2014 results, helping the company move up 26 slots on the Top 250 list and propelling it into the Top 15 Growth list for the first time ever.
Said John Bush, CEO, "We are tremendously pleased to be recognized by Branham as one of Canada's fastest­ growing tech companies. We've continued to expand our mobile development services and cloud­-based products and are confident that we are on a strong, sustainable course."
Said Scott Carey, CTO, "We're on a relentless path to innovate in both mobile software development and engagement marketing automation. This year, we expect to achieve important milestones with our Engage360 platform, including do ­it ­yourself (DIY) capabilities for brands and agencies and believe that these will be key drivers of our continued growth."
About Envisage Engagement Technologies
Envisage has been a leading provider of mobile and engagement technologies products and services since 2008. Envisage helps brands and enterprises leverage the power of emerging cloud­ and mobile­-based technologies to drive more effective consumer engagement. Envisage is headquartered in Toronto, CA, with offices in New York, NY, and Sunrise, FL. For more information about Envisage, please visit envisageny.com.
About Branham Group, Inc.
Branham Group Inc. is a leading industry analyst and strategic consulting firm servicing the global information technology marketplace. Branham Group assists information technology companies and related institutions in achieving market success through its custom consulting services (Planning, Marketing and Partnering) and through its multi-client research subscription programs (Digital Health and Green IT). Branham also produces an annual listing of the top information and communication technology (ICT) companies in Canada. For more information regarding Branham Group, please visit branhamgroup.com.
Envisage Media Contact:
John Bush, Chief Executive Officer
media(at)envisageny(dot)com
Branham300 Media Contact:
Wayne Gudbranson, CEO, Branham Group
wayne(at)branhamgroup(dot)com, 877­411­6154, ext. 113