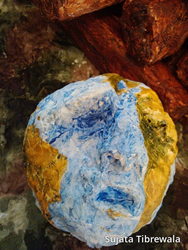 Earth Trishanku : The dying earth needs to be rescued
Cupertino, California (PRWEB) April 28, 2016
There is nothing more heart wrenching than to realize that humans in their bid to gain more, are constantly abusing the marvel called planet Earth. The Mother Earth, the source of all the bounties and provider of our material needs, has become a victim of our greed. Artist Sujata Tibrewala feels that while rapid industrialization and growing consumerism may be regarded as signs of a flourishing economy, sadly the process has resulted in wilting and decaying natural resources. According to the artist, the Earth day, celebrated world over on April 22 by billions of people, will have no meaning until each one us takes a collective responsibility and pledges to restore the earth to its natural glory.
In a unique and creative initiative titled 'Art Out of Discard', Tibrewala, creates installations out of waste. The artist creates workshops where people bring their own waste and convert them into striking pieces of art. The aim is to draw the attention of people towards trash and look at ways to minimize wastage. Discarded items from home ranging from paper shreds, old boxes, plastic files, CDs etc are turned into meaningful artworks. These installations made out of rubbish can convey important message of up cycling waste.
As a part of her initiative is a thought-provoking paper and acrylic sculpture titled Earth Trishanku,The Funeral Pyre. Trishanku actually refers to a character appearing in ancient Indian mythology and has become synonymous with a state of limbo between duty and desire that humans experience in life. The artist has beautifully drawn a parallel here and has equated the state of earth as that of being in a state of limbo where it has been abused and is in a need to be rescued. The earth installation is shown to be on a funeral pyre denoting the dying resources.
Tibrewala also brings in her rich expertise of using colors and contrasts and showcases the same strong messages through her paintings. She thinks that we must act soon to stop the deep abyss we are creating for ourselves by taking nature for granted. An impressive acrylic on canvas painting titled 'Siblings' depicts a full-bodied female form sitting on top of our precious planet. The artwork symbolically gives the most relevant message of our times – We share this planet with every living being. Let us never forget it.
Another strong painting, called 'Down the Dump' shows a human form holding the earth in a trash bag to dump it amongst other resources that have been turned wasteful. The artist through this disturbing depiction wants to shake us from our slumber and wake up to the reality of saving our souls by saving our planet.
About the artist:
Sujata Tibrewala, a self-taught artist come engineer remarkably embodies the indomitable spirit of human existence through her works. Her works, center around the theme of eco-feminism. She has exhibited her artworks in some of the most reputed venues around the globe such as University of Illinois, Chicago, Raw San Jose, Parallax Art Fair London, the Regional Commission of Arts St Louis, Life Force Arts Chicago, Mindworks Gallery Chesterfield, St. Louis Artists' Guild, Chesterfield Arts, Art World Association, Women's Caucus for the Arts, MySLART and Lalit Kala Academy, Delhi.
She moved to the USA in 2010 from India and practices her art form at the Bay Area, CA, where she resides presently.