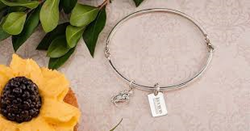 This Shane Co. party will pay tribute to Nashville's most beloved spring sporting event.
Nashville, Tennessee (PRWEB) April 28, 2016
Shane Co., the largest family-owned jeweler in the United States, announced details of the Steeplechase Soirée that will take place at their Franklin store tonight,Thursday, April 28 from 6 to 9PM. Cocktails and hors d'oeuvres will be served as guests see and try on jewelry to wear with spring dresses and hats, and models will walk the showroom floor wearing on-trend styles. Fans of jewelry – and horses – are invited to join Nashville's top bloggers and influencers at this festive and fashionable Steeplechase kick-off party.
A limited-edition diamond Steeplechase charm bracelet will be available for sale at the event. The custom-designed sterling silver bracelet features a diamond horse charm and is expected to be a popular fashion accessory on the day of Steeplechase. A portion of the proceeds from the charm bracelet will be donated to Monroe Carell Jr. Children's Hospital at Vanderbilt, one of the designated primary beneficiaries of the Iroquois Steeplechase.
Official artwork commemorating the 75th Iroquois Steeplechase will also be on display at Shane Co. during the event.
"We are so honored to partner with the Iroquois Steeplechase again," said Shane Co. Chief Marketing Officer Steven Schreibman. "This will be our first pre-event Steeplechase Soirée and we're anticipating a large community turnout for this wonderful party that will pay tribute to Nashville's most beloved spring sporting event."
Shane Co. is at 3006 Mallory Lane, Franklin, Tennessee.
The Iroquois Steeplechase will take place at Percy Warner Park in Nashville on May 14th.
About Shane Co.
Shane Co. is the largest family-owned jeweler in the United States and is renowned for their unique engagement rings, wedding bands and stunning gifts for every occasion. The Denver, Colo.-based company is a direct importer of diamonds, rubies, sapphires, pearls and other gemstones and operates 20 stores in 13 states, as well as an online store at http://www.ShaneCo.com. Shane Co. is recognized in the industry as a price leader offering the finest array of customer benefits, including a Free Lifetime Warranty and a 60-Day Money-Back Guarantee.
EVENT CONTACT:
Diane Ferraro
Shane Co.
Phone: 626-222-9388
Diane.Ferraro(at)ShaneCo(dot)com