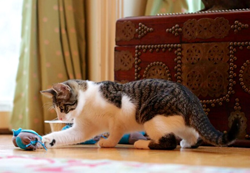 Dr. Liz Bales has finally heard our cats' voice and has created a feeding system, that for the first time, considers Their point of view on what a good meal is. – Dr. Carlo Sircusa, DVM, Phd University of Pennsylvania School of Veterinary Medicine
PHILADELPHIA, PA (PRWEB) May 02, 2016
F.E.E.D. Co., the Feline Environmental Enrichment Design Company, is proud to report on the pre-launch success of their revolutionary, veterinarian-designed product for indoor cats. The NoBowl Feeding System replaces the bowl with the hunt, allowing cats to stalk, trap, and play with their food the way nature intended. NoBowls make cats happy and healthy.
Since being introduced on Kickstarter in early March of this year, NoBowl became fully funded in just four days, gained nearly 2,000 supporters and raised over $136,000 during the 30-day campaign. After this stunning success, the NoBowl Feeding System was accepted onto the Indiegogo InDemand platform. Cat lovers everywhere can now place their pre-orders there and watch the movement grow.
Long before it was due to hit stores, NoBowl also earned the approval of a top animal behaviorist at the University of Pennsylvania, the United States' preeminent veterinary school. NoBowl has also attracted advance international praise from the Huffington Post, The Catington Post, the U.K.'s Daily Mail, Mental Floss, the Philadelphia Inquirer and blogs in China, Japan, Russia, Germany, Turkey and France. NoBowl will officially launch this August and is currently accepting preorders on Indiegogo, with sales in 11 countries.
Practicing veterinarian and lifelong cat lover Liz Bales, VMD invented the NoBowl Feeding System. A devoted proponent of feline environmental enrichment—the study of the needs and well-being of indoor cats—Dr. Bales understands all cats are hard-wired to hunt. She knows the hunting instinct is essential to feline health and prevents commonplace cat problems including scarfing and barfing, chewing and clawing on furniture, overeating, and over-grooming. But, like all responsible cat lovers, she also knows hunting outdoors is not a solution for today's cats. For cats' safety and the safety of nature, cats should remain indoors. So, Dr. Bales invented a way for cats to hunt inside.
NoBowls look like little mice. They're not. They're plastic dispensers—Naked NoBowls—covered in tactile, cat-appealing covers—NoBowl Skins. Cat companions fill each NoBowl with dry food, hide the NoBowls near their cats' favorite hangouts, and let their cats "hunt" to find small meals, which the cats dispense by playing with the NoBowls. After playing, eating and resting, cats get hungry, and will naturally want to hunt again. Easy to clean, the NoBowl Feeding System comes with five Naked NoBowls and NoBowl Skins, a portion dispenser and trainer. What does all this mean? No. More. Bowl.
Dr. Bales and her team at F.E.E.D. Co. are dedicated to making the NoBowl Feeding System work for every cat, even cats who are slow learners. Their website, NoBowlCat.com (http://www.NoBowlCat.com), explains more about the product, offers tutorials on how to use the NoBowl, and answers both frequently asked and asked-by-you questions about your cat's needs. Dr. Bales blogs as TheCatvocate (http://www.TheCatvocate.com) offering up the latest in feline wellness, health news, and, naturally, about-to-go-viral cat videos. The team at F.E.E.D. Co. is also devoted to "Feline-thropy," a charitable program of partnering with cat rescues and animal shelters to give environmental enrichment to all cats, and to offer practical tips to newly adoptive cat parents to help cats better adjust to their new homes, thereby reducing the problem of cats being returned to shelters.
Say goodbye to the old cat bowl. Say hello to the NoBowl.
F.E.E.D. Co., Feline Environmental Enrichment Design Company, is devoted to improving the lives and experiences of indoor cats. Founded in 2014 by Liz Bales, VMD, the Philadelphia-based feline supply company uses cutting-edge veterinary research to create evidence-based products that fulfill the natural, instinctive needs of cats. F.E.E.D. Co.'s first innovative product, the NoBowl Feeding System, nourishes cats' inner hunting instincts while healthfully dispensing nutritionally appropriate amounts of dry food. At F.E.E.D. Co., we make cats happy, instinctively.