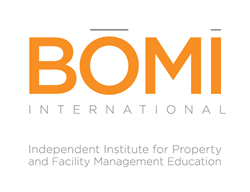 "This new partnership provides BOMI International's industry-recognized education and training opportunities to the CORFAC International team, thus enhancing their talent pool to the benefit of their clients."
Annapolis, Maryland (PRWEB) April 29, 2016
BOMI International has teamed with CORFAC International as a provider of continuing education to the alliance members' employees.
"As the CORFAC network continues to expand globally, we're pleased to offer our members educational opportunities with top providers in the industry," said 2016 CORFAC International President John R. Homsher, CCIM, Principal of Podolsky|Circle CORFAC International in Chicago. "We're excited to work with BOMI International to make these learning options available for our members."
The new partnership enables CORFAC International associates to choose from a variety of curricula that offer education in competencies directly related to their key job functions—specifically in commercial property and facility management. Courses cover a wide range of building systems, as well as management, high-performance buildings, and sustainability.
"We share CORFAC International's passion for employee training," said Jeffrey Horn, President and CEO of BOMI International. "This new partnership provides BOMI International's industry-recognized education and training opportunities to the CORFAC International team, thus enhancing their talent pool to the benefit of their clients."
CORFAC International alliance members' personnel may select from a variety of study methods that align with their personal learning preferences. BOMI International course delivery options include classroom formats (Accelerated Review and Semester-Length), online courses led by instructors, and an independent study option.
About CORFAC International
CORFAC International is comprised of privately held entrepreneurial firms with expertise in office, industrial and retail brokerage, tenant and landlord representation, investment sales, multifamily, self-storage, acquisitions and dispositions, property management and corporate services. Founded in 1989, CORFAC has 48 firms in the U.S., seven in Canada and 25 in international markets, including Colombia, France, Germany, Greece, India, Ireland, Israel, Italy, Mexico, Poland, Romania, Russia, South Korea, Spain and the United Kingdom. In 2015, CORFAC firms completed more than 11,000 lease and sales transactions totaling 500 million square feet of space valued in excess of $8.5 billion.
About BOMI International
BOMI International®, a nonprofit educational organization founded in 1970, provides critical education and expertise to industry personnel with property, facility, and building systems management responsibilities. As the Independent Institute for Property and Facility Management Education, BOMI International delivers courses, certificate programs, and industry-standard designations—Real Property Administrator (RPA®), Facilities Management Administrator (FMA®), Systems Maintenance Administrator (SMA®), and Systems Maintenance Technician (SMT®)—with a proven record of increasing job performance and company efficiency. More than 27,000 industry professionals hold one or more BOMI International designations, and over 90,000 property and facility management professionals have turned to BOMI International for their continuing education, professional development, and staff training needs. To learn more, please visit http://www.bomi.org, call 1.800.235.BOMI (2664), or e-mail service(at)bomi(dot)org.
Media Contact
Heith Hart
BOMI International
410.974.1410 x1257 | hhart(at)bomi(dot)org