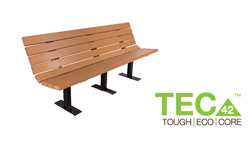 "TEC42 carries a 50-year warranty, which no traditional material can claim. It does not fade, rot or splinter..." said The Park Catalog Vice President of Sales and Marketing Chris Luyet
Boca Raton, Fla. (PRWEB) May 03, 2016
The Park and Facilities Catalog announced the release of their TEC42 line of recycled products launched on Earth Day in conjunction with a partnership forged with the Everglades Foundation. This new line has a focus on quality as well as sustainability, which increasingly are key elements in selecting materials for planning and building construction projects. TEC42 is in part named after the materials and resources (MSR) class 4.2 credit it represents in LEED building accreditation.
Products include recycled plastic benches which features plastic lumber that is low maintenance, with a high life expectancy, and is resistant to many outside elements. These include termites, fungus, splintering, wood rot, salt and oils. When compared to traditional materials such as wood TEC42 recycled plastic planks far outlast them in almost every aspect.
"TEC42 carries a 50-year warranty, which no traditional material can claim. It does not fade, rot or splinter and that truly is an amazing quality to have in outdoor site furnishings," said The Park Catalog Vice President of Sales and Marketing Chris Luyet
The tough "eco core" (TEC) construction of TEC42 can be cut, drilled and secured just like wood, but retains its original color and luster long after most traditional wood stains. TEC42 comes in the two colorways that match traditional wood stains so the product looks just like traditional wood from a distance.
The 100% post-consumer High Density Polyethylene that makes up TEC42 is also 100% recyclable after use. HDPE is the same plastic used in milk jugs and plastic shopping bags In each foot of 2" x 6" TEC42 board there is roughly 3.2 pounds of recycled material, which equates to about 1,583 plastic bags, or 145 plastic milk jugs. Every six foot board represents quite a bit of plastic waste that won't end up in our oceans or a landfill. This ensures not only the longevity of site furnishings, but also the longevity and vitality of outdoor spaces.Click here for more information on TEC42 recycled plastic benches.
About The Park and Facilities Catalog
The Park and Facilities Catalog is headquartered in Boca Raton, Fla. In business since 2001, the company is a national provider of commercial-grade outdoor site furnishings such as bicycle parking racks, park benches, bleachers, lockers, receptacles, picnic tables, and other Division 10 and 12 construction items. Clients include municipalities, businesses, contractors, architects, parks, schools, universities and shopping centers. For more information visit the website at http://www.theparkcatalog.com
Author: Andy Kowalczyk - The Park and Facilities Catalog