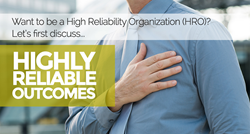 It's about smart design. It's about building a culture where each and every employee knows what the organization values and works to protect those values.
(PRWEB) May 23, 2016
David Marx, CEO of Outcome Engenuity, has been the pioneer of Just Culture and leader in workplace accountability solutions and learning system frameworks for decades. David Marx has suggested the term HRO be changed to Highly Reliable Outcomes instead of High Reliability Organizations.
"There is no such thing as a high reliability organization. There is no secret sauce to make an organization good at everything they do," says Marx. "Just look at commercial airlines – the darlings of the HRO movement. Look beyond aircraft accident rates to their lost-workday injury rates (airlines are double the US average), lost baggage rate, or the propensity toward on-time departures. No one who flies regularly will consider airlines to be model for business reliability."
The team at Outcome Engenuity believes that there are only organizations that achieve greatness around the things that they value and are willing to commit the time and resources to protect. It's about more than mere hope or marketing spin that we can get to zero accidents, zero employee injuries, or zero unsatisfied customers. "It's about smart design," notes Marx. "It's about building a culture where each and every employee knows what the organization values and works to protect those values. It's about learning the skills to produce better results. And, it's about doing it."
Better outcomes are available to most organizations. David Marx and his team have developed an in depth four-day course where they give managers the practical tools to produce better outcomes. Taught by Outcome Engenuity CEO, David Marx, and OE Sr. Advisor, John Westphal, organizational leaders attending the course will be instructed by trainers with 50 years of experience in helping organizations, across industries, produce better results. From NASA to healthcare, from airlines to power generation – Outcome Engenuity has worked with the riskiest of industries to produce better outcomes. And they've also worked with the regulators of those industries – helping them be better regulatory agencies.
Public Highly Reliable Outcomes Champion Certification courses begin in June. Outcome Engenuity also offers leadership courses which target Root Cause Analysis/Event Investigation Champion Certification training and Culture of Accountability Champion Certification training courses.
In addition to downloading free software tools designed to aid organizations in their goals to reduce adverse events, course information and registration can be found at their website: http://www.outcome-eng.com.