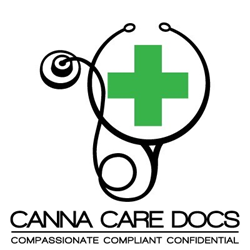 At Canna Care Docs, we make getting your medical marijuana card convenient, by taking care of all of the details for you.
Takoma Park, MD (PRWEB) April 30, 2016
Canna Care Docs, a medical marijuana evaluation clinic with cannabinoid specialists, is excited to announce the opening of the newest clinic location in Takoma Park, Maryland. Canna Care Docs is centrally located on New Hampshire Ave., steps away from the District of Columbia. The physician, Dr. Warson is dually licensed in Maryland and DC. He is registered with the District of Columbia and the State of Maryland to certify residents into their respective medical marijuana programs. Dr. Warson is currently available Wednesdays and Thursdays 10-4 with hours expanding soon. Directions and further information can be found at Cannacaredocs.com
Dr. Warson's career as a skilled neurosurgeon prepared him to be a pioneer in cannabis therapy and research while he was a Colorado resident. He is able to provide extensive cannabis counseling to the patients alongside the medical cannabis consultant who will help each patient register and become compliant with their state. Canna Care Docs feel strongly that in order to achieve optimum medicinal benefits from cannabis, a patient needs to be well educated about their medication. Canna Care Docs strive to make the application process as simple and convenient as possible for patients under Dr. Warson's gentle expertise.
Canna Care Docs will take care of all the details. The required passport photos for DC residents are printed and patients are helped with preparing their application for submission. For your convenience Canna Care Docs accept walk in appointments; no prepayment is required.
The State of Maryland is in the process of creating their online patient registration system. At this time, the medical marijuana law has been enacted and ensures that a patient who has a valid medical marijuana recommendation from a licensed physician will not be prosecuted for possession of cannabis within the allowable weight limits of the law.
At Canna Care Docs, patients are provided every protection that is allowable by law. Approved patients will leave with a written certification on tamperproof prescription paper that is embossed with Canna Care Docs seal. Canna Care Docs also provides a picture identification card with security features as proof of patient status for a minimal additional fee.
Canna Care Docs wants to ensure that patients receive the maximum value during the time they spend with us. Canna Care Docs recognizes that the maximum value of a physician's recommendation is achieved once the program has been fully implemented and a patient can register with the state as a patient.
The state of Maryland allows a physician to register a patient into the program for no longer than 2 years. Therefore, as a service to patients that choose to visit the office for their certification; Canna Care Docs will register patients for 2 years once the online registration becomes available, not based on the date of their original office visit. This ensures that any delays in the state posting the online registration do not decrease the length of time a patient's recommendation is valid.
Whether you live in The District of Columbia or Maryland, Canna Care Docs can help you now. Feel free to stop in for more information on how you qualify for medical marijuana. Canna Care Docs is located at 6495 New Hampshire Ave. Suite B 203, Takoma Park, MD. You can also call 410-412-3470 to speak to a representative or visit the website Cannacaredocs.com for further information.
Canna Care Docs is excited to bring industry leading cannabis expertise from Colorado, Maine, Massachusetts, Rhode Island, Connecticut, and Delaware to Maryland and the District of Columbia. Canna Care Docs looks forward to helping with your healthcare needs.