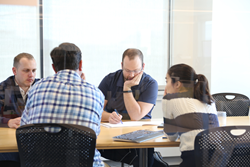 Working with different studio members than my usual work allows has been enjoyable and educational. - Daryl Kern, AIA, Senior Associate, Array Architects
Philadelphia, PA (PRWEB) May 06, 2016
Led by Daryl Kern, the firm's parklet design is taking shape. While the design will not be revealed until 'installation day' (May 20), the team has been diligently visioning and conceptualizing this element, which will encompass and entire city parking space in order to offer public seating for pedestrians.
"I am proud of this team's creative collaboration, any of the designs they've shown me can be winners" said Carl Davis, Array CEO. The team includes architects, interior designers and marketing staff.
As Install Day approaches, the team has been refining their 7 by 14 foot design and confirming materials are available, transportable and feasible to erect on a busy city street in the one hour alloted. Next begins the difficult task of physically constructing the parklet with their own hands, before breaking it down for final assembly on site. "This competition is unique in that it will not only produce great visibility for the Philadelphia AIA's Center for Architecture during the Convention, but more importantly, having to construct and install our design will help Colleagues and Associates here at Array understand basic construction techniques and how components are assembled and erected. This will, in turn, enable them to produce better designs for Array's clients in the future."
The American Institute of Architects has selected 14 local design firms for this competition, with seven firms being featured each day of the Convention. Array's parklet will be observed, interacted with and voted on by many of the 30,000 expected convention attendees from 12:00pm – 7:00pm on Friday, May 20th.
Array is recognized as a leader in healthcare facility planning and design, offering a full complement of knowledge-based services including planning, architecture, interior design and asset advisory from our eight office locations. Our design process uses Lean as a foundation for a unique Process-Led approach that better meets the needs of today's healthcare organizations. Array's devotion to a healthcare-exclusive practice springs from our belief in the power of design to improve patient outcomes, maximize operational efficiencies, increase staff satisfaction and provide remarkable results for our clients.