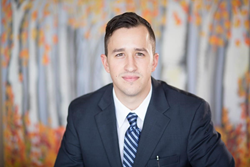 "We have a good thing here. Digital marketing is simple. Provide what is desired, when it's desired." -- Jeffrey Ackler, Big State Home Buyers
Houston, Texas (PRWEB) April 28, 2016
Big State Home Buyers, Houston's largest privately owned home buying company, welcomes Jeffrey Ackler to its team to streamline marketing efforts.
Ackler comes to Big State Home Buyers after starting his career in advertising out on the west coast. He began his studies at the University of Oregon as an art major before being lured into the advertising field by a former professor and mentor. After a post-graduation internship with Los Angeles-based Something Massive, formerly known as DNA Studios, Ackler's career trajectory included stints as a designer, community coordinator and account manager. He was responsible for managing a roster of clients as diverse as some of the major movie studios and international burger chains.
Following his tenure with Something Massive, Ackler continued to set the west coast afire with his own digital consulting firm—when he wasn't "hanging ten" on some of Southern California's finest surfing beaches. He eventually packed up his surfboard and followed his heart to the nation's capital, where he took over the position of Manager of New Media and Communications for BIPAC, the first business PAC.
Ackler married his wife, Valerie, in Moss Point, Mississippi, on her family's farm, "Presley's Outing," which shares the name of Valerie's most famous family member, the one and only Elvis. After the wedding, the couple made its home in Oxford, Mississippi.
Now settled in the Houston area, 25-year-old Ackler is working directly with Big State Home Buyers president, Brian Spitz. Their goal is to streamline the marketing efforts of the Big State Home Buyers team as they continue to strive to provide their customers with the best possible home selling experience. As the business expands throughout the state of Texas, the company continues to connect with its customers to bring them satisfaction throughout the entire process of selling their homes.
Satisfied customers speak for themselves. As Ackler states, "We have a good thing here. Digital marketing is simple. Provide what is desired, when it's desired."
Ackler is a welcome addition to the team of BSHB associates whose goal is always to provide excellent service to clients and prospective customers alike.
ABOUT BIG STATE HOME BUYERS
Big State Home Buyers is a property investment firm based in Houston, Texas. Specializing in quick sells of inherited and distressed properties, the company offers several selling options for homeowners who wish to sell their house fast. Assessments are made within 24 hours, followed by a same-day cash offer and closing within a matter of days. Big State Home Buyers is an accredited member of the Better Business Bureau with an A+ rating, and winner of the BBB Award of Distinction & Pinnacle Award For Excellence 2012-2015.
CONTACT
Big State Home Buyers
2500 E T C Jester Blvd #515
Houston, TX 77008
Ph: 877-751-8420
http://www.bigstatehomebuyers.com/