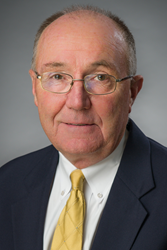 "In the space of just one year Jack has distinguished himself by his commitment to our students and the university," said President Danielle Ripich.
BIDDEFORD, Maine (PRWEB) April 28, 2016
University of New England President Danielle N. Ripich is pleased to announce the promotion of Jack McDonald to the role of vice president of Student Engagement. In addition to his role as director of Athletics, McDonald will oversee a number of student activities, facilities, athletics and student life areas.
"In the space of just one year Jack has distinguished himself by his commitment to our students and the university," said President Ripich. "His remarkable energy and enthusiasm has been evident to everyone who has worked with him. His leadership has generated increased visibility and support for Athletics at UNE and brought new opportunities to the university. With the guidance of John Tumiel, he moved quickly into the mainstream to create new events that brought us together. Please join me in congratulating Jack on his promotion and new role as VPSE."
"This past year has been one of the best of my career in higher education due to the outstanding leadership, students and staff at the University of New England." Said McDonald. "I am grateful to President Ripich for her confidence in me and all the faculty and staff who continue to do so much for our students."
McDonald came to UNE from NCAA Division I Quinnipiac University, where he served as the Bobcats' director of athletics for 20 years. Prior to his tenure at Quinnipiac, McDonald was director of athletics at the University of Denver (1990-95) and assistant athletic director for marketing at Boston College (1987-90).
While at Quinnipiac McDonald was instrumental in the Bobcats making the transition from being a NCAA Division II institution to its current status as a Division I member. He also successfully gained conference membership for Quinnipiac to the Metro Atlantic Athletics Conference, as well as ECAC Hockey for both the men's and women's ice hockey programs.
An accomplished fundraiser and visionary, McDonald played an integral role in the design, construction and dedication of the TD Bank Sports Center – a 160,000 square foot state-of-the-art facility that has separate venues for Quinnipiac's basketball and ice hockey programs. McDonald also brokered television, radio and Internet packages for the Bobcats, including competitions seen on NESN, ESPN3 and ESPNU.
Quinnipiac won 33 conference championships and made 21 NCAA Championship appearances during McDonald's tenure and had its most successful sports season in 2012-13 when the Bobcats garnered four conference titles, saw three teams advance to Final Fours, and two squads compete for a national championship. That same academic year, Quinnipiac had its highest department-wide cumulative grade point average and had the most student-athletes ever with a GPA of 3.1 or higher.
McDonald is very active with committee work at the national level. He was chairperson of the NCAA Women's Ice Hockey Committee and recently finished a term on the National Association of Collegiate Directors of Athletics (NACDA) Executive Committee. He previously served on the NCAA Championships and Competition Cabinet, as well as being chairperson of the NCAA Men's Ice Hockey Committee. McDonald was president of Great Western Lacrosse from 2006-08 and has also been the president of the New England ICAAA, the regional governing body of men's track and field.
McDonald was named the NACDA Under Armour NCAA Division IAAA Athletic Director of the Year in 2013-14 and also hosted the 2014 NCAA Women's Ice Hockey National Championship at Quinnipiac's High Point Solutions Arena at the TD Bank Sports Center. McDonald was inducted into the Boston College Hall of Fame in 1982.
About the University of New England:
The University of New England is Maine's largest private university, an innovative educational community with two distinctive coastal Maine campuses, a vibrant new campus in Tangier, Morocco, and a robust offering of degree and certificate programs online. UNE attracts internationally recognized scholars in the health sciences, life sciences, business, education, the social sciences, and the humanities, allowing both our graduate and undergraduate students to engage in research and scholarship alongside dedicated faculty.
We are home to Maine' s only medical and dental schools—part of our comprehensive health education mission built on a pioneering interprofessional approach that also includes pharmacy, nursing and an array of allied health professions. UNE offers a uniquely cosmopolitan, interdisciplinary academic environment with an emphasis on global engagement and hands-on learning experiences. As a community, we are committed to creating the future by nurturing well-rounded scholars and professionals who can adapt, prosper and lead in a rapidly evolving world.
UNE. Innovation for a healthier planet. Visit http://www.une.edu.