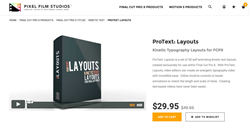 This FCPX Plugin is a great addition for any Editor.
Aliso Viejo, CA (PRWEB) April 28, 2016
ProText Layouts is a set of 30 self-animating kinetic text layouts created exclusively for use within Final Cut Pro X. With ProText Layouts, video editors can create an energetic typography video with incredible ease. Utilize intuitive controls to tweak animations to match the length and scale of texts. Creating text-based videos have never been easier.
ProText Layouts includes 30 kinetic text layouts with unique layouts and animations. Create energetic videos with a variety of different intros and outros. Stack ProText Layouts presets to quickly chain from one text animation to the next. ProText Layouts is the easiest way to create fast moving typography videos without a single keyframe.
ProText Layouts can be placed above pictures, videos, and generators within Final Cut Pro X. To use ProText Layouts, start by placing media into the FCPX timeline. Next, choose a ProText preset and place it directly above the media. Adjust the length of the ProText preset to alter the time that ProText stays on screen.
ProText Layouts accommodates to text of any size, scale, and tracking. Look toward the inspector window to find "Intro" and "Outro" animation controls for each preset. Tweak the position, animation amount, and scale of text with these simplistic controls. The possibilities are endless with ProText Layouts.
ProText Layouts' presets are unique in their intro and outro animations. Choose from presets with flipping, scaling, masking, bouncing, sweeping, and rotating animations. ProText Layouts dynamic style keeps audiences engaged and interested.
Established in 2006, Aliso Viejo, California-based Pixel Film Studios is an innovative developer of visual effects tools for the post-production and broadcast community. Their products are integrated with popular non-linear editing and compositing products from Apple FCPX. Apple, the Apple logo, Mac OS X, and Macintosh are registered trademarks of Apple Inc. in the U.S. and/or other countries. All other trademarks and trade names are the property of their respective owners.