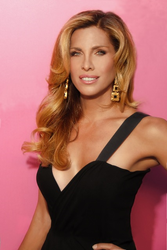 (Beverly Hills, CA) 4/20/16 (PRWEB) April 28, 2016
Trailblazing transgender actress Candis Cayne joins longtime LGBTQ ally, author, fashion and lifestyle expert Lawrence Zarian, as host of Lambda Legal's annual West Coast Liberty Awards, which celebrates those working towards the organization's vision of equality. They will lead the star­studded ceremony at the Beverly Wilshire Four Seasons Hotel on Thursday, June 2, 2016 in Beverly Hills, California.
Cayne is known as the first transgender actress to star on network television with her breakthrough role in ABC's Dirty Sexy Money in 2007, and is more recently known for the docu­series I am Cait, as well as her recurring role on CBS's hit Elementary. Cayne was a presenter at the 2013 West Coast Liberty Awards and has been a strong supporter of Lambda Legal and the LGBT community; working closely with various organizations, including GLAAD. Cayne was recognized for her advocacy with the HRC Visibility Award in 2015.
"As a proud supporter of the work that Lambda Legal has been doing on the front lines of the LGBTQ fight for equality, I am thrilled to be a part of the action and host this year's West Coast Liberty Awards," says Cayne.
Zarian is one of the most sought after on­-camera lifestyle & fashion experts in the television industry today. He has more than 15 years of on-­air experience and is the author of the highly successful fashion "Bible", Lawrence Zarian's 10 Commandments for a Perfect Wardrobe. Zarian frequently appears as "Fashion Guy" on Live with Kelly & Michael, in addition to Steve Harvey, Rachael Ray, ABC's Live at The Academy Awards, Inside Edition, EXTRA, and KTLA Morning News. Zarian also conducts standing ­room­ only seminars throughout the country and hosts in ­store shopping events nationally with retailers such as Bloomingdales and Macy's.
"As a longstanding LGBT ally, showing our united support for equality is more important than ever. I feel privileged to be able to host the West Coast Liberty Awards," says Zarian.
Following last year's event, Lambda Legal, saw the successful conclusion of their #IDO campaign which attracted A­list celebrity support including Oscar® winner Julianne Moore, who was featured in a moving PSA, along with Ava DuVernay, Dan Bucatinsky, Mark Ruffalo, Kristen Bell, Aisha Tyler, Brad Goreski and more. And, in the year since the 2015 West Coast Liberty Awards, Lambda Legal secured a landmark marriage equality victory from the US Supreme Court. This victory, decades in the making, was immediately met with resistance and retaliatory attempts by anti­gay opponents to hang on to outright discrimination. Most recently, in cooperation with the ACLU and Equality North Carolina, Lambda Legal filed suit against Governor Pat McCrory and the state of North Carolina to defeat a discriminatory law and to make clear that we are committed in our fight for justice. http://www.lambdalegal.org/wcla