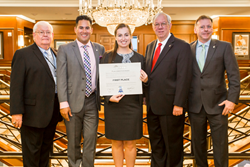 As seasoned professionals, this competition inspires us to mentor and network with these younger future consultants...Chairman H. Stephen Bailey
Middletown, OH (PRWEB) April 29, 2016
The scoring was extremely close this year as students were judged by Registered Financial Consultants (RFC®) – members of the IARFC. The complete standings:

First Place: Molly Funk from Bryant University in Smithfield, RI – Mara Derderian Lecturer
Second Place: Daniel Ingles and Grant Hulett from Central Michigan University, Mount Pleasant, MI – Douglas Iles Professor
Third Place: Cole Brownell and Anthony Pelaez from California State University Northridge, Northridge, CA – Inga Chira Professor.
The competition at the Speedway Club in Charlotte was the last stop for these teams. It began with students being given a fictional case study of a family with an overview of their financial picture. From that data, teams produced a financial plan with recommendations for current and future actions. The teams advanced from plan submission to semi-finals and ultimately ended up with in-person presentations in Charlotte.
"We were pleased to see the enthusiasm for the competition by the students this year," related IARFC Chairman H. Stephen Bailey of HB Financial in Charlotte and one of the sponsors of the event. "As seasoned professionals, this competition inspires us to mentor and network with these younger future consultants."
The IARFC feels the National Financial Plan Competition helps the student experience real world scenarios of the financial consultant. The National Financial Plan Competition was a two day event that featured industry relevant presentations by Barry L. Dayley, RFC®, Money Concepts International, Inc. in Palm Beach, FL; Peter J. D'Arruda, RFC®, Capital Financial Advisory Group, LLC in Apex, NC; Nicholas Royer, RFC®, Group 10 Financial, LLC in Winter Park, FL; Stephanie Bailey RFC®, HB Financial Resources, LTD in Charlotte, NC and Jon Rogers RFC®, Rogers Financial Group, LLC in Greenville, SC.
"Charlotte Motor Speedway was an excellent venue for this event," noted Rogers. "The intenseness of the competition was lightened by the impressive vistas and track tours of the Speedway – an experience enjoyed by all."
The IARFC appreciates the support of their Corporate Sponsors – Cetera Advisors, Money Concepts, Keir Educational Resources, LD Lowe Wealth Advisory and the Builder Suite. Their contributions and those of individual members made the event a successful endeavor.
For more information regarding the National Financial Plan Competition contact info@iarfc.org or visit the website http://www.iarfc.org