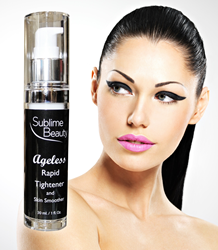 Buy one and get the 2nd product 50% off - that includes the entire line! Buyers also qualify for a valuable 3 serum gift box if they purchase $250 or more.
St. Petersburg, FL (PRWEB) April 29, 2016
Sublime Beauty® is offering a special deal on its webstore.
Buy 1 product and get ANYTHING (including another of the same product) for 50% off. The discount is applied to the product with lesser value. In addition, a free bonus of 3 top serums in a gift box is given to those who purchase $250 or more in products.
"So many women (men, too) love our products and get good results. We want to introduce our lines to more people and we thought this would be a good way to do it," says Kathy Heshelow, founder of Sublime Beauty® who lived in Paris for 16 years.
Heshelow explains that many of the products use peptides and ingredients developed in France and Europe, such as Argireline (known as the natural botox), Matrixyl to boost collagen levels and Renovage, which extends cell life and helps skin resist oxidation.
The most popular Sublime products are the Face Whisperer® Day Cream as well as Neck & Decollete; the spa quality Collagen Mask; Collagen and Retinol Serums; the Ageless line (Rapid and Line Smoother); and the Healthy Skin Brush.
The 3 Serum Gift Box is valued at $145 and includes full size Collagen Serum, Retinol Serum and Hyaluronic Serum for gorgeous skin. The box is a free gift with purchases of $250 or more - and a great way to take care of skin.
The webstore is found here, and there is free standard shipping. No coupon necessary.